Happy World Kindness Day Gif for Facebook, Whatsapp, Twitter and Messengers.
World Kindness (13 November) Day Gif to share with Everyone!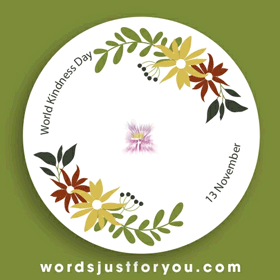 About World Kindness Day – 13 November
World Kindness Day is observed in many countries on 13 November. World Kindness Day was formed in 1998 as part of the World Kindness Movement to promote kindness throughout the world.
The purpose of World Kindness Day (outlined by World Kindness Movement) is "to highlight good deeds in the community focusing on the positive power and the common thread of kindness which binds us."
World Kindness Day is filled with activities and focusses on positivity that acts of kindness can bring about and bring people together for the common good of humanity, and build a more compassionate world.
IMPORTANT NOTICE: *
The images and gifs published on this site for download are protected by Digital Millennium Copyright Act (DCMA). You are NOT ALLOWED to post Gifs and images from this site on platforms such as Tenor.com, Giphy.com and other gif hosting and sharing platform or other websites to make these animated gifs and images available for re download and sharing (without coming to this site's original post). Hotlinking Images/Gifs from this site is STRICTLY PROHIBITED. Please read full Term of Use for more details.
You may also like this:
For more Gifs, please also visit greetingsgif.com (click link)