Wishing you a Happy Guru Nanak Jayanti Images & Quotes
Happy Guru Nanak Jayanti Wishes Images for Whatsapp, Snapchat, Facebook, Twitter and messengers
Wishing you a Happy Guru Nanak Jayanti Image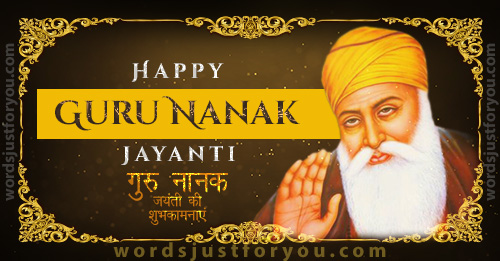 About Guru Nanak
Guru Nanak was the founder of Sikhism. Guru Nanak was born on 15 April 1469 and died at age 70 on 22 September 1539. Nanak was a teacher and founded Sikhism during the 15th century and traveled extensively teaching people the message of one God.
Wishing you a Happy Guru Nanak Jayanti in Hindi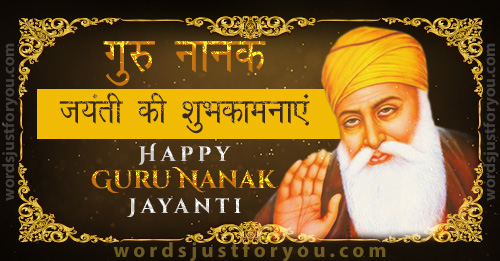 May the Teachings of Guru Enlighten your Heart and Mind and Bring Peace to You and Your family. Happy Guru Purab.
IMPORTANT NOTICE: *
The images and gifs published on this site for download are protected by Digital Millennium Copyright Act (DCMA). You are NOT ALLOWED to post Gifs and images from this site on platforms such as Tenor.com, Giphy.com and other gif hosting and sharing platform or other websites to make these animated gifs and images available for re download and sharing (without coming to this site's original post). Hotlinking Images/Gifs from this site is STRICTLY PROHIBITED. Please read full Term of Use for more details.
Quote by Guru Nanak "Speak only that which will bring you Honor"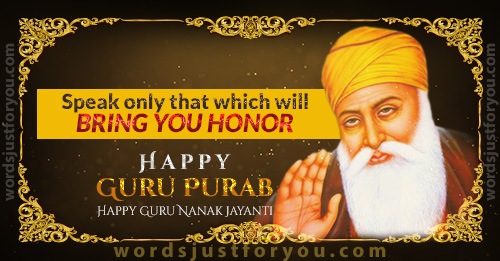 You may also like this:
For more Gifs, please also visit greetings.com (click link)