Quotes for Thanksgiving for Family & Friends for Whatsapp, Snapchat, Facebook, Twitter and messengers
In the United States, Thanksgiving is a national holiday and generally kicks start the "Holiday Season". This holiday is celebrated on the fourth (4th) Thursday in November with family and friends. "Turkey" has become synonymous with Thanksgiving, as a meal of choice. The day is filled with wonderful messages of "thanks to family and friends, being thankful for what they have in their lives. Friends, families and loved ones gather for a traditional dinner which includes roast turkey with gravy, stuffing, vegetables, potatoes, cranberry sauce and pumpkin pie. The day after Thanksgiving Day, is Black Friday which marks the start of the Holiday shopping season.
"Be thankful for what you have you'll end up having more. If you concentrate on what you don't have, you will never, ever have enough." Oprah Winfrey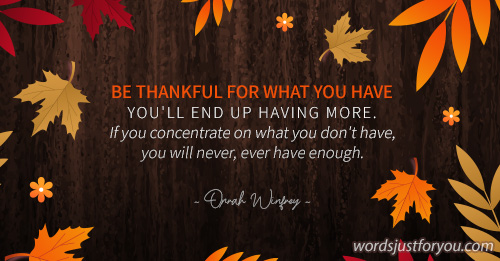 "I'm Thankful for each and every day, we never know when time is up". Chuck Berry
"When I started counting my Blessings, my whole life turned around". Willie Nelson
"Feeling gratitude and not expressing it is like wrapping a present and not giving it". William Arthur Ward
"Never take anything for Granted". Benjamin Disraeli
"I am Thankful for all the Blessings and Talents i have been given, but most of all I am thankful for my loving and supportive family." Olivia Holt
IMPORTANT NOTICE: *
The images and gifs published on this site for download are protected by Digital Millennium Copyright Act (DCMA). You are NOT ALLOWED to post Gifs and images from this site on platforms such as Tenor.com, Giphy.com and other gif hosting and sharing platform or other websites to make these animated gifs and images available for re download and sharing (without coming to this site's original post). Hotlinking Images/Gifs from this site is STRICTLY PROHIBITED. Please read full Term of Use for more details.
Thanksgiving Quotes