New Year Quote
Inspirational/Motivational New Year Quote by Oprah Winfrey for Whatsapp, Facebook, Twitter, messengers and sharing with family and friends
Oprah Winfrey Quotes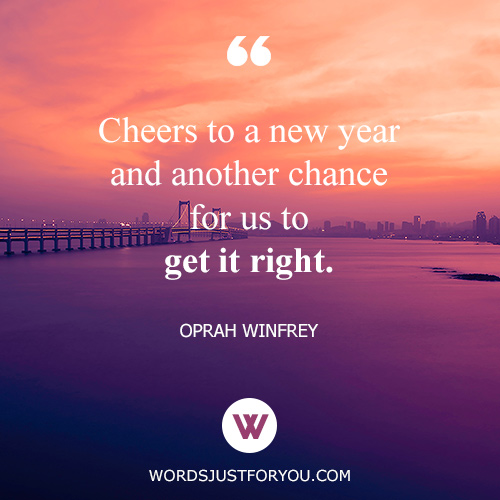 "Cheers to a new year and another chance for us to get it right." Quote by Oprah Winfrey
IMPORTANT NOTICE: *
The images and gifs published on this site for download are protected by Digital Millennium Copyright Act (DCMA). You are NOT ALLOWED to post Gifs and images from this site on platforms such as Tenor.com, Giphy.com and other gif hosting and sharing platform or other websites to make these animated gifs and images available for re download and sharing (without coming to this site's original post). Hotlinking Images/Gifs from this site is STRICTLY PROHIBITED. Please read full Term of Use for more details.
New Year is one of the most celebrated holidays around the world. It marks the beginning of a new calendar year. Around the world, New Year is generally a national holiday and is marked by celebrations and traditions.
At the beginning of the new calendar year, it is a common practice to make new year's resolution (or goals) to improve one's life. It's a great way to start the new year with renewed focus on health, wellness and other personal goals. New Year's resolutions aim to address issues surrounding one's diet, physical well-being, fitness, exercise, career, finances, social life, peace, prosperity, living space (home) as this is a a great time to start fresh and "reboot" for greater success.

Wishing you a Happy and Successful New Year !
For more Happy 2020 gifs, please click on this LINK
New Year Quotes for Whatsapp, Facebook, Twitter, Instagram, and other messengers
View more Gifs at GreetingsGif.com and HappyNewYearGifs.com