Juneteenth Quotes for Facebook, Twitter, Whatsapp and other messengers to share.
Download and Share Juneteenth Gif & Juneteenth Quotes on social media platforms and personal messengers. See Juneteenth Quotes below
Happy Juneteenth 2021
19th June marks Juneteenth which commemorates the end of slavery and recognizes justice and freedom for African Americans in America.
Juneteenth Quotes
"Juneteenth has never been a celebration of victory or an acceptance of the way things are.
It's a celebration of progress. It's an affirmation that despite the most painful parts of our history, change is possible—and there is still so much work to do." Quote by Barack Obama
"What I love about #Juneteenth is that even in that extended wait, we still find something to celebrate. Even though the story has never been tidy, and Black folks have had to march and fight for every inch of our freedom, our story is
nonetheless one of progress." Quote by Michelle Obama
"Juneteenth means so much to me. It represents the freedom that my ancestors fought so tirelessly for. But rather than focusing on the brutalization of my people then and now. I choose to focus on hope. June 19th reminds me that I am the force of power to change this world and to follow in the footsteps of my ancestors to work towards liberation." Quote by Mariah Cooley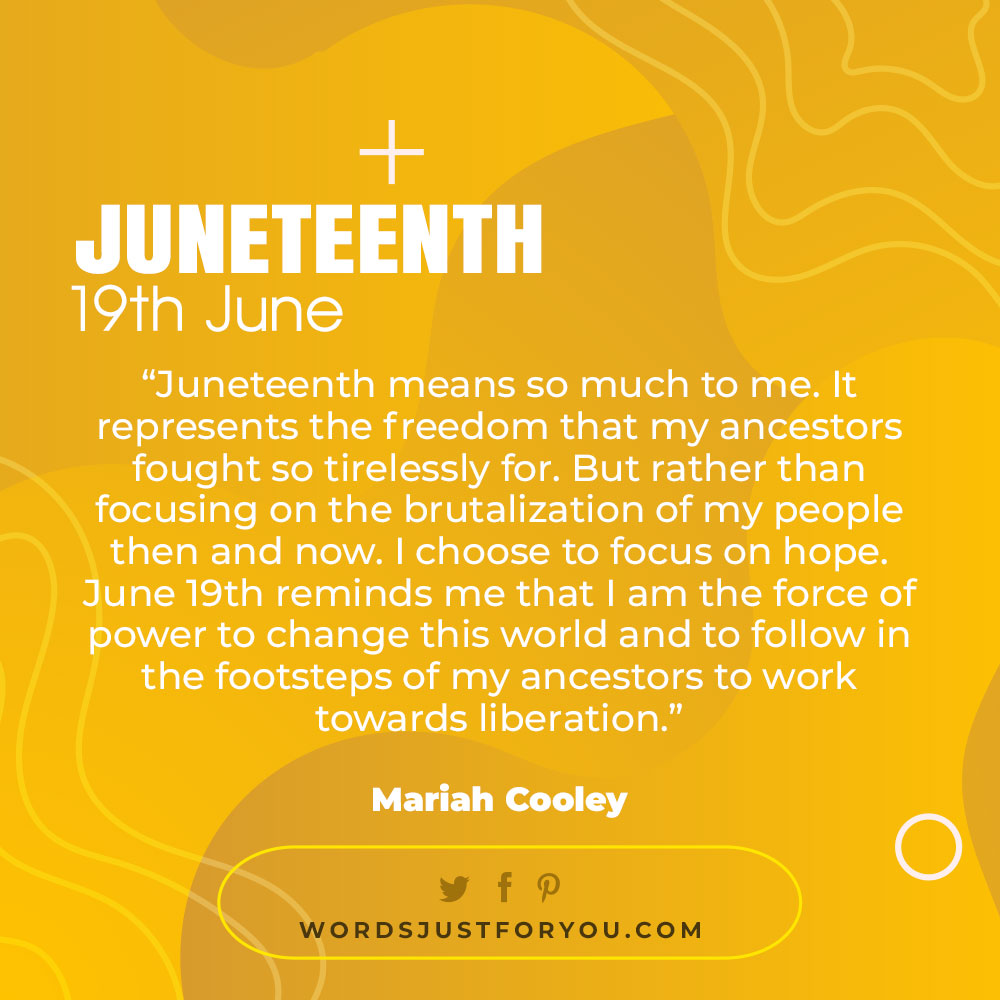 "You must never, ever give out. We must keep the faith because we are one people. We are brothers and sisters.
We all live in the same house: The American House." Quote by John Lewis
"Juneteenth may mark just one moment in the struggle for emancipation, but the holiday gives us an occasion
to reflect on the profound contributions of enslaved Black Americans to the cause of human freedom. It gives us another way to recognize the central place of slavery and its demise in our national story. And it gives us an opportunity to remember that American democracy has more authors than the shrewd lawyers and erudite farmer-philosophers of the Revolution, that our experiment in liberty owes as much to the men and women who toiled in bondage as it does to anyone else in this nation's history." Quote by Jamelle Bouie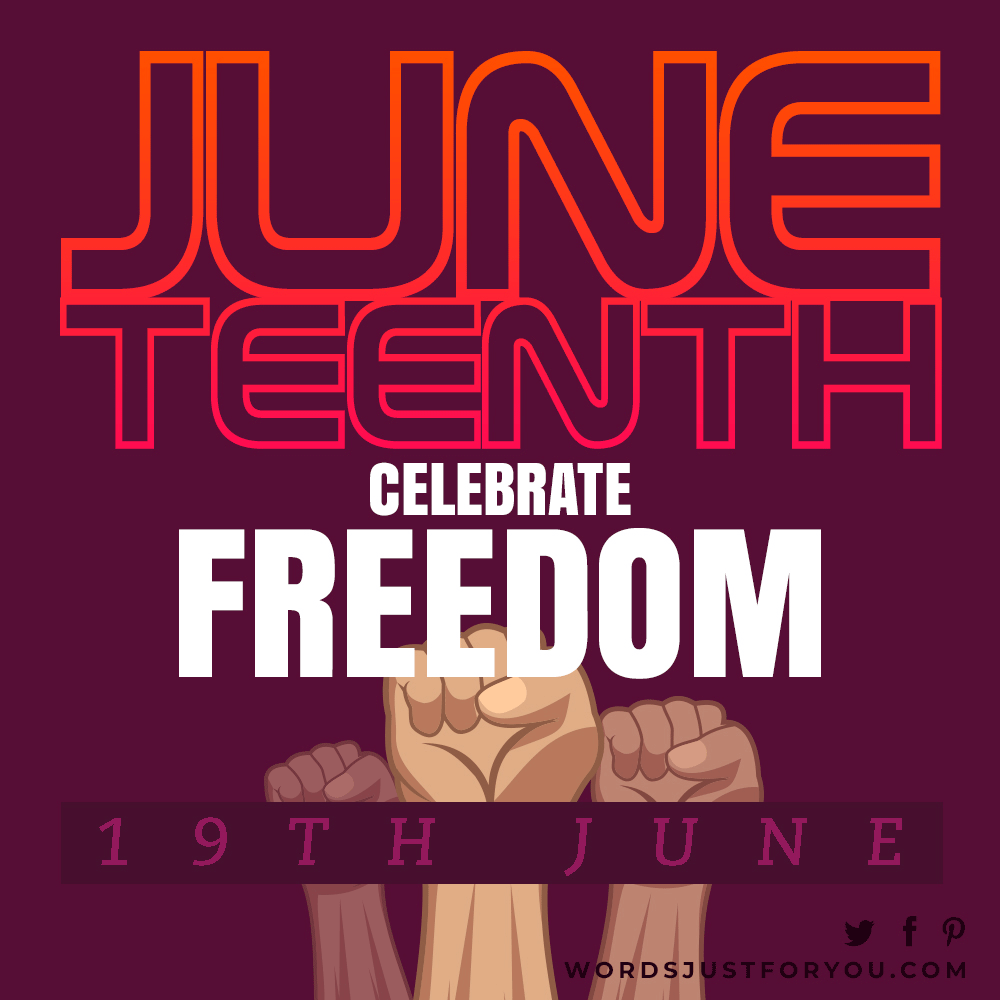 "Freedom is never voluntarily given by the oppressor it must be demanded by the oppressed." Quote by Martin Luther King Jr.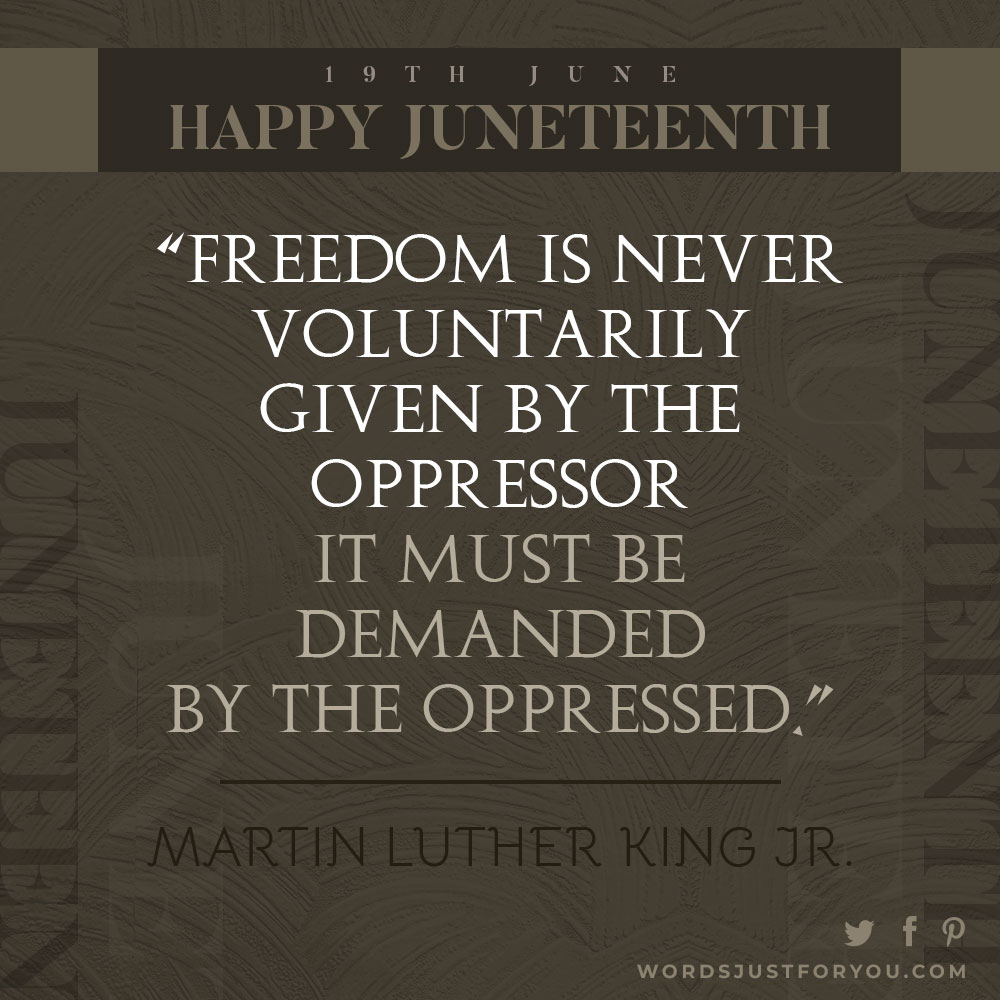 "No one is born hating another person because of the color of his skin, or his background, or his religion. People must learn to hate, and if they can learn to hate, they can be taught to love, for love comes more naturally to the human heart than its opposite." Quote by Nelson Mandela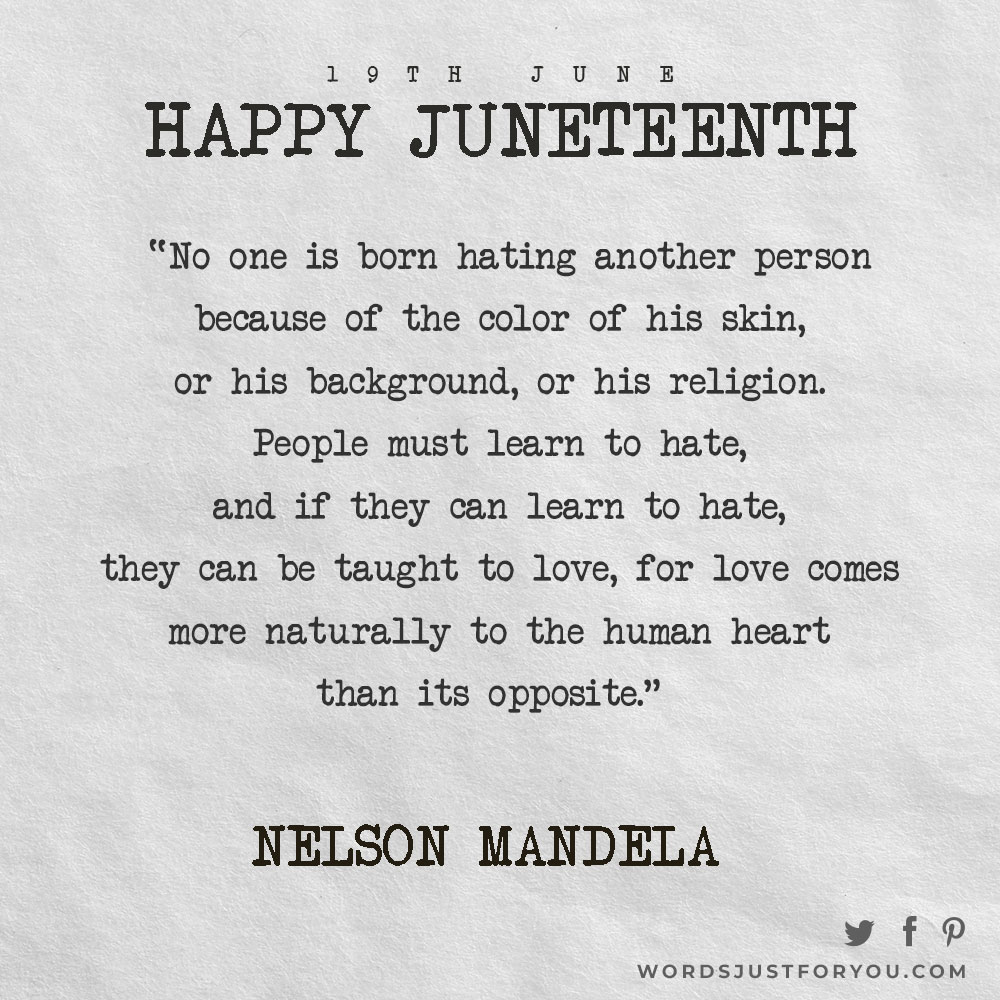 "Emancipation wasn't a gift bestowed on the slaves; it was something they took for themselves, the culmination of their long struggle for freedom, which began as soon as chattel slavery was established in the 17th century, and gained even greater steam with the Revolution and the birth of a country committed, at least rhetorically, to freedom and equality. In fighting that struggle, black Americans would open up new vistas of democratic possibility for the entire country." Quote by Jamelle Bouie
"My fellow Americans, this is a special moment in our history. Just as people of all faiths and no faiths, and all backgrounds, creeds, and colors banded together decades ago to fight for equality and justice in a peaceful, orderly, nonviolent fashion, we must do so again." Quote by John Lewis
"Every Black person you meet is a MIRACLE. We are descended of lineages meant to be destroyed by slavery or colonization. Our lives are hard-fought and hard-earned. We are priceless. We are valuable because of our humanity-and declared valuable because our ancestors declared our worth when they fought for us to live." Brittany Packnett Cunningham
"Juneteenth is a date that recognizes the end of slavery in the United States. Although Juneteenth is not a day that is celebrated in the UK, it is still a reminder of the injustices black people endured. Juneteenth is important to me because till this day black people are still subject to racial injustice on a global scale, and are still victims of racial abuse regardless of where they are from. Juneteenth allows us to remember how far black people have progressed since and it is a reminder of the strength we have within us." Quote by Bethel Kyeza
"Injustice anywhere is a threat to justice everywhere. We are caught in an inescapable network of mutuality, tied in a single garment of destiny. Whatever affects one directly, affects all indirectly." Quote by Martin Luther King Jr.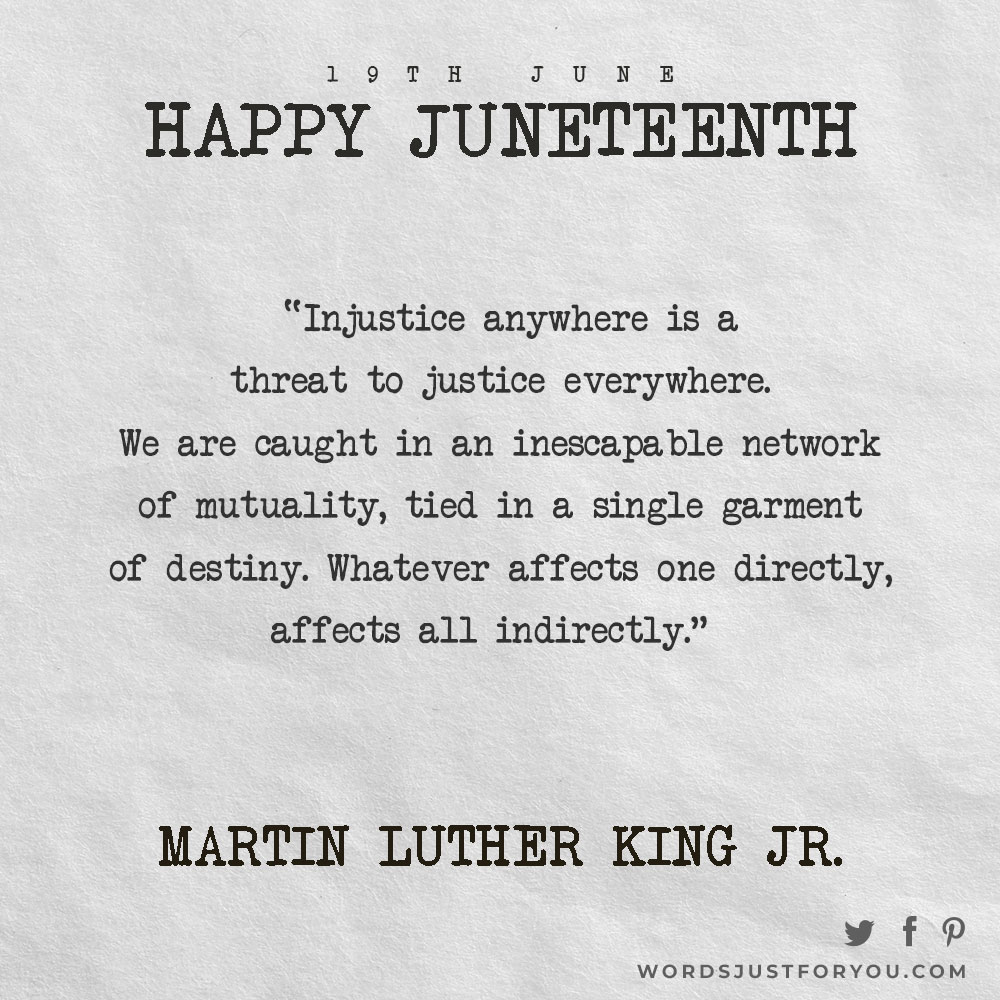 "No violence will create peace…To effect change we must show love in the face of hate and peace in the face of violence." Quote by Beyonce
"Juneteenth reminds me of Black freedom dreams, my freedom dreams. In 1865, the port city of Galveston, Texas, or the land formerly known as Mexico as I call it, where so much blood, Indigenous blood, Mexican and Tejano blood, Black blood had been shed, there was a freedom ring that was heard across the world. I hear that ring still and it is a reminder that I stand on others' shoulders and I, like my ancestors—my Mascogo, Afro-Seminole, African and Black ancestors—who honor Juneteenth with me, will have to prepare a place for the generations that come after so they may experience more joy, more rest, more freedom; so they may experience liberation.
Juneteenth represents liberation and it belongs to us. It is a constant reminder that Black freedom is predestined, that only we can tell our stories and that there is no freedom, without Black freedom." Quote by Dannese Mapanda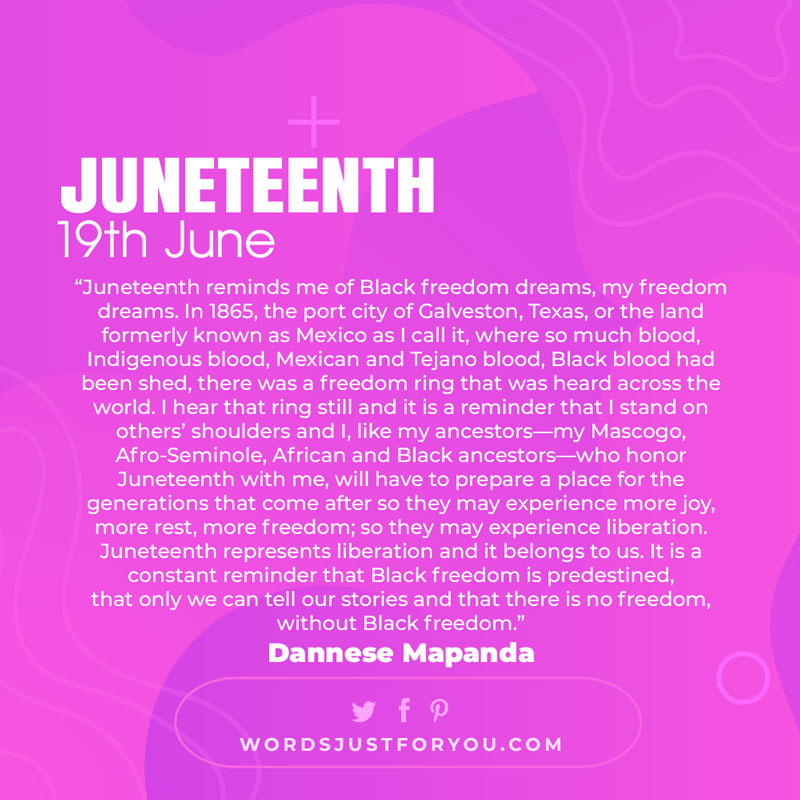 "Today on Juneteenth, the day we celebrate the end of slavery, the day we memorialize those who offered us hope for the future and the day when we renew our commitment to the struggle for freedom" Quote by Angela Davis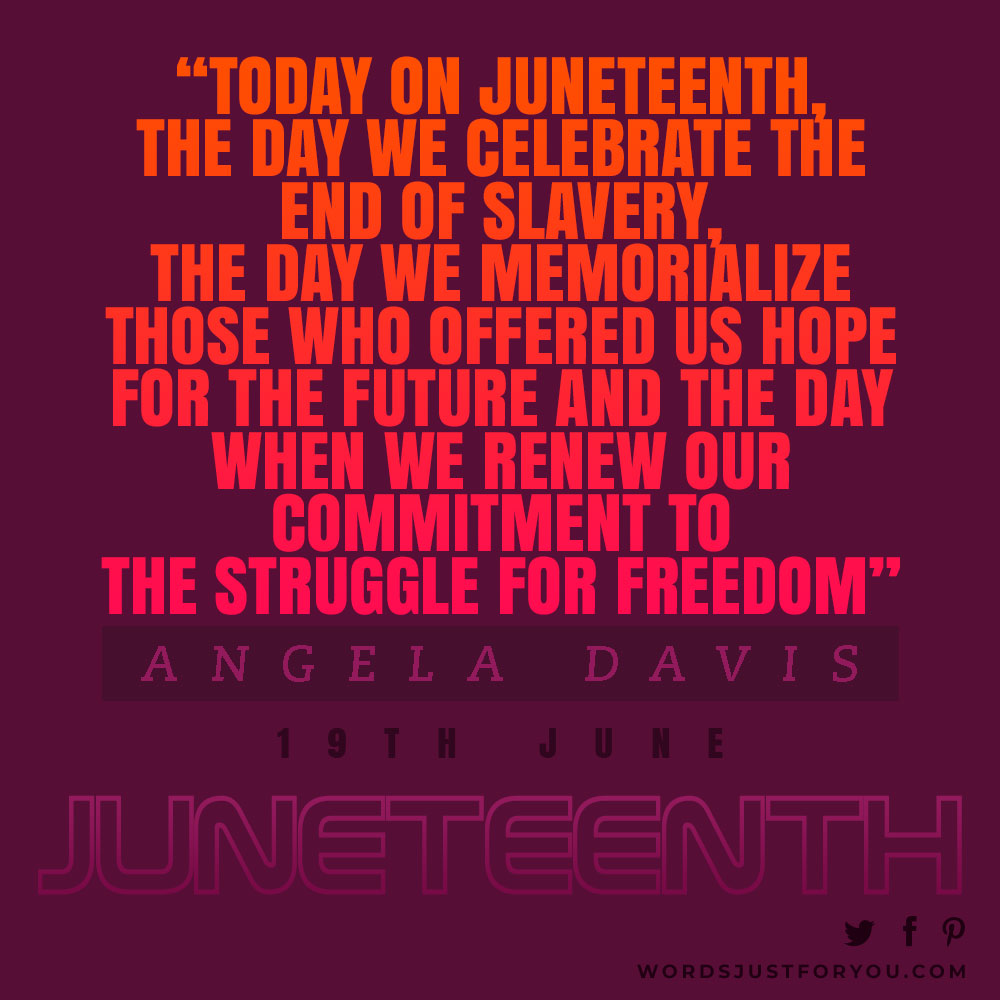 You can view more Juneteenth Gifs below:
View more Gifs at GreetingsGif.com and HappyNewYearGifs.com