January Daily Quotes for Facebook, Twitter, Whatsapp and other messengers to share with family and friends.
JANUARY 1: "Take a leap of faith and begin this wondrous new year by believing." Sarah Ban Breathnach
JANUARY 2: "Life begins at the end of your comfort zone." Neale Donald Walsch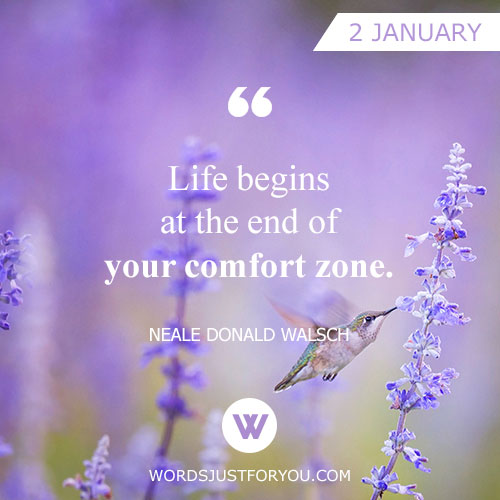 JANUARY 3: "Go confidently in the direction of
your dreams." Henry David Thoreau
JANUARY 4: "Year's end is neither an end nor a beginning
but a going on. Hal Borland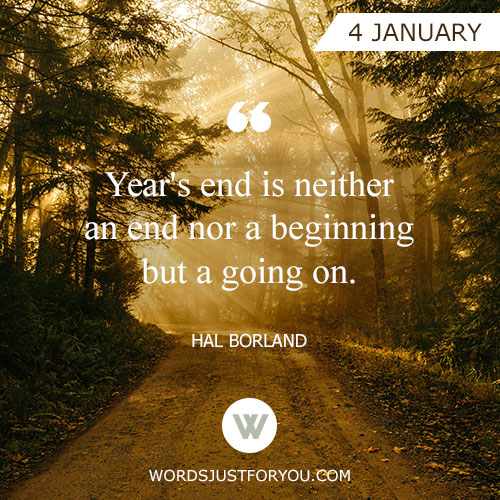 JANUARY 5: "Year's end is neither an end nor a beginning
but a going on. Hal Borland
JANUARY 6: "It takes courage to grow up and
become who you really are." E.E. Cummings
JANUARY 7: "You are never too old to set another goal
or to dream a new dream." C.S. Lewis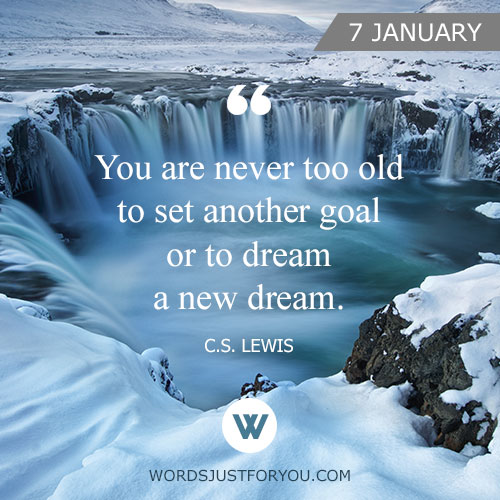 JANUARY 8: "I like the dreams of the future better
than the history of the past." Thomas Jefferson
JANUARY 9: "You always want to be open to possibilities
in the new year." Bob Casey, Jr.
JANUARY 10: "It is never too late to be what you
might have been." George Eliot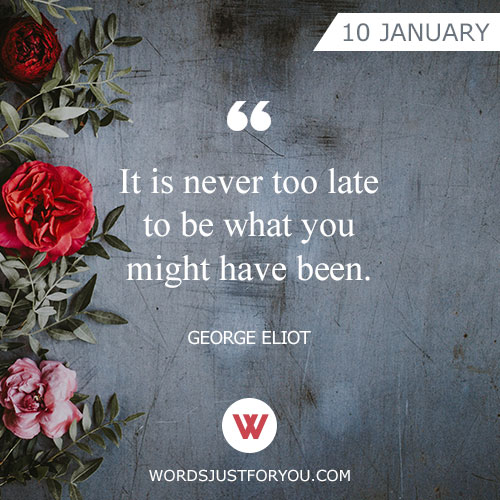 JANUARY 11: "You get a new year, you get a new start,
you get a new opportunity." Billy Butler
JANUARY 12: "Cheers to a new year and another chance
for us to get it right." Oprah Winfrey
JANUARY 13: "We must accept finite disappointment, but never lose infinite hope." Martin Luther King Jr
January 14: "The quality, not the longevity, of one's life is
what is important." Martin Luther King Jr
January 15: "Means we use must be as pure as the ends we seek." Martin Luther King Jr
January 16: "In the End, we will remember not the words of our enemies, but the silence of our friends." Martin Luther King Jr
January 17: "If you want to conquer fear, don't sit home and think about it. Go out and get busy." Dale Carnegie
January 18: "We may encounter many defeats but we must not be defeated." Maya Angelou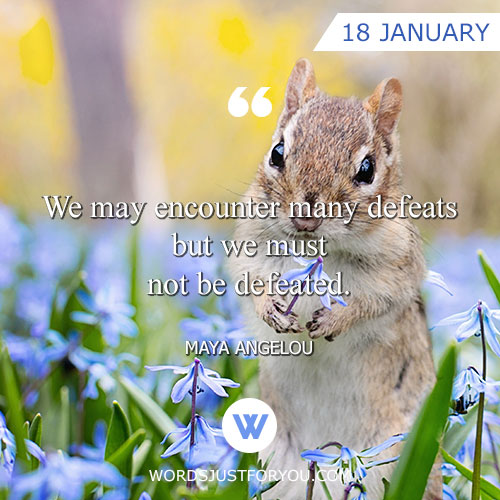 January 19: "When you reach the end of your rope, tie a knot in it and hang on." Franklin D. Roosevelt
January 20: "The way get started is to quit talking and begin doing." Walt Disney
January 21 "Don't let yesterday take up too much of today." Will rogers
January 22: "It's not whether you get knocked down, it's whether you get up." Vince Lombardi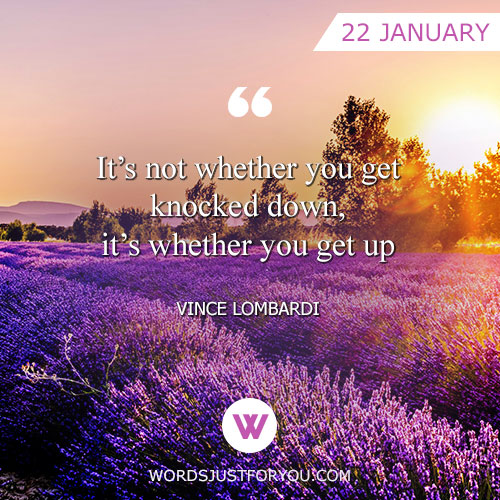 January 23: "If you are working on something that you really care about, you don't have to be pushed. The vision pulls you." Steve Jobs
January 24: "Failure will never overtake me if my determination to succeed is strong enough." Og Mandino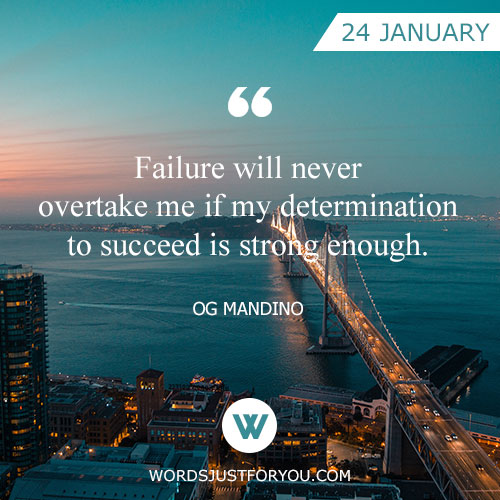 January 25: "Imagine your life is perfect in every respect; what would it look like?" Brian Tracy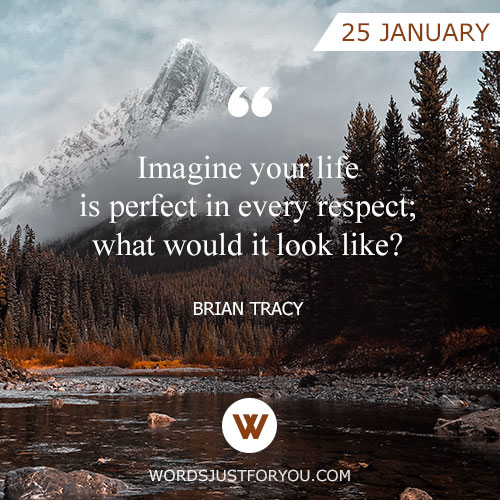 January 26: "We generate fears while we sit. We overcome them by action." Dr. Henry Link
January 27: "The man who has confidence in himself gains the confidence of others." Hasidic Proverb
January 28: "Creativity is intelligence having fun." Albert Einstein
January 29: "Develop an 'Attitude of Gratitude'. Say thank you to everyone you meet for everything they do for you." Brian Tracy
January 30: "The future belongs to the competent. Get good, get better, be the best!" Brian Tracy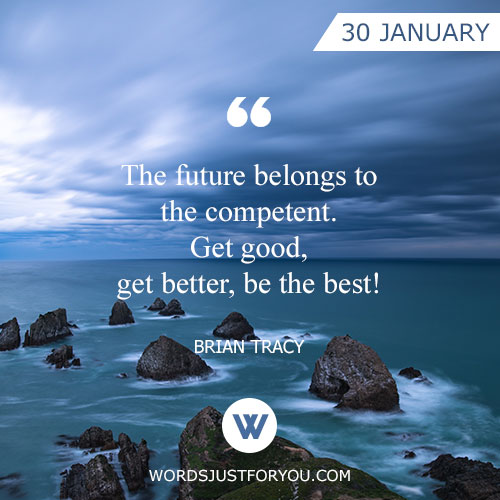 January 31: "To see what is right and not do it is a lack of courage." Confucius
Wishing you a Happy January.
New Year is one of the most celebrated holidays around the world. It marks the beginning of a new calendar year. Around the world, New Year is generally a national holiday and is marked by celebrations and traditions.
At the beginning of the new calendar year, it is a common practice to make new year's resolution (or goals) to improve one's life. It's a great way to start the new year with renewed focus on health, wellness and other personal goals. New Year's resolutions aim to address issues surrounding one's diet, physical well-being, fitness, exercise, career, finances, social life, peace, prosperity, living space (home) as this is a a great time to start fresh and "reboot" for greater success.
View more Gifs at GreetingsGif.com and HappyNewYearGifs.com
Latest Posts