Animated Saint George's Day Gif – Happy St George's Day Gif 2020 for Facebook, Twitter, Whatsapp and other messengers to share with family and friends.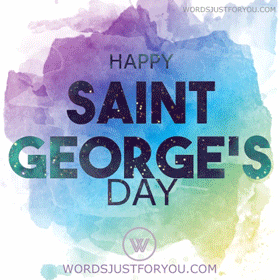 Happy Saint George's Day 2020
Be Proud and wish your family and friends on Saint George's Day with this Animated Saint George's Day Gif. Available for download and sharing on personal messengers. Happy St George's Day Gif.
Saint George's Day, also known as Feast of Saint George and, though, not a public holiday,it is still celebrated with much fanfare, parades, dancing, feasting and other activities. This day is not only celebrated in England, but also observed by many other countries as well.

One of the main elements of St. George's Day is the is the Saint George's Cross. Saint George's Cross is a simple red cross on a white background. This is also used as England's national flag.

Happy Saint George's Day!
"Stand Tall. Stand Proud."

IMPORTANT NOTICE: *
The images and gifs published on this site for download are protected by Digital Millennium Copyright Act (DCMA). You are NOT ALLOWED to post Gifs and images from this site on platforms such as Tenor.com, Giphy.com and other gif hosting and sharing platform or other websites to make these animated gifs and images available for re download and sharing (without coming to this site's original post). Hotlinking Images/Gifs from this site is STRICTLY PROHIBITED. Please read full Term of Use for more details.
You may also like Birthday Gifs & Images (see below):
For more Daily Gifs, please click on this LINK
More Related Post Links Below:
1. Motivational Fresh Start Gif – 5725
2. Monday Quote – 5582
3. Wednesday Quote – 5586
4. Monday Quote – 5547
5. Cute Good Morning Gif – 5516