Happy Diwali Wishes Gif Video – Animated Happy Diwali Wishes Gif Video for Facebook, Twitter, Whatsapp and other messengers to share with family and friends.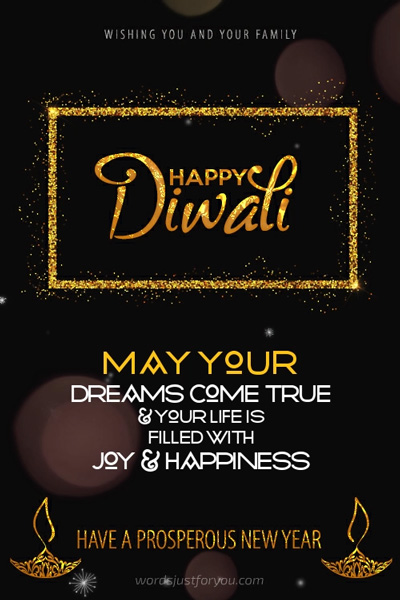 Diwali (Deepawali, Deepavali or Divali) is one of the most popular Hindu Festivals, known as as the Indian Festival of Lights. The celebration symbolizes the victory of Good over Evil where Lord Rama defeated demon king Ravana and returned to Ayodhya. Today, Diwali is celebrated with families and friends with special traditionally made food and sweets, colourful decorations and lots of lights. The festival of lights will not be complete with a grand display of colourful diyas (oil lamps) and lights.
Diwali is a time to celebrate righteousness, the victory of Good over Evil, and the beauty and power of Light over Darkness. This festival is also a time where Hindus worship goddess Laxmi, who is believed to bestow good luck, fortune, and prosperity to all those seeking her blessing.
May this Diwali bring you Joy, Happiness, Good Luck and Good Fortune. Wishing you a Happy Diwali!
View more Gifs at GreetingsGif.com and HappyNewYearGifs.com