Happy April Fools Day Animated Gif – Happy April Fools Day Gif for Facebook, Twitter, Whatsapp and other messengers to share with family and friends.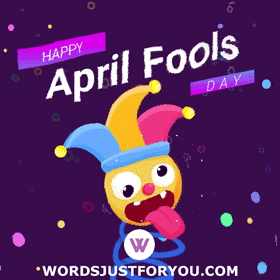 You can right "click" on image to download copy.
Happy April Fools Day Gif – Wish your family and friends a Happy April Fools Day with this Animated Happy April Fools Day Gif. Available for download and sharing on personal messengers. Scroll below for April Fools Day Quotes.
IMPORTANT NOTICE: *
The images and gifs published on this site for download are protected by Digital Millennium Copyright Act (DCMA). You are NOT ALLOWED to post Gifs and images from this site on platforms such as Tenor.com, Giphy.com and other gif hosting and sharing platform or other websites to make these animated gifs and images available for re download and sharing (without coming to this site's original post). Hotlinking Images/Gifs from this site is STRICTLY PROHIBITED. Please read full Term of Use for more details.
Happy April Fools Day Animated Gif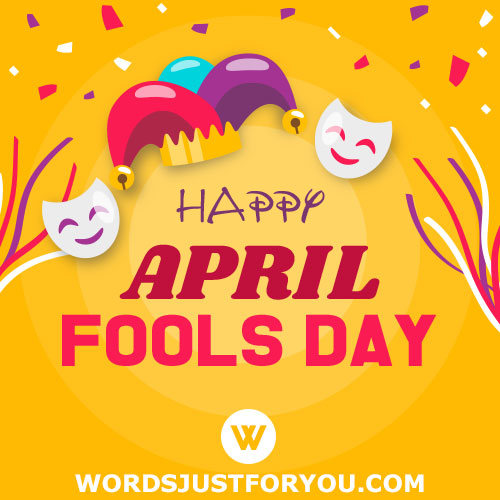 April Fools Day is celebrated on 1 April each year by different cultures. Today, people all over the world create hoaxes on the day to fool others. This day is intended to be celebrated in a funny way where people are fooled by outrageous claims, hoaxes or pranks. All is done in good humor!
Happy April Fools Day Quotes
Only a fool knows everything. A wise man knows how little he knows.
A fool flatters himself, a wise man flatters the fool. ~ Edward G. Bulwer-Lytton ~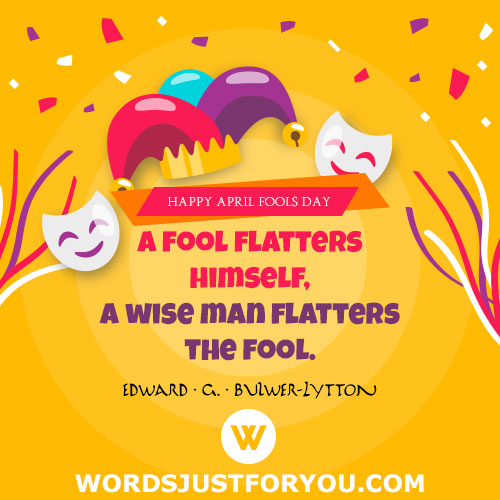 What a fool does in the end, the wise do in the beginning. ~ Spanish Proverb ~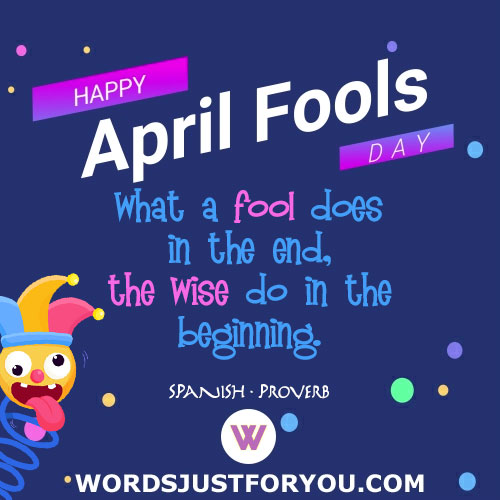 A mother takes twenty years to make a man of her boy, and another woman makes a fool of him in twenty minutes. ~ Robert Frost ~
A fool may be known by six things: anger, without cause; speech, without profit; change, without progress; inquiry, without object; putting trust in a stranger, and mistaking foes for friends. ~ Arabian Proverb ~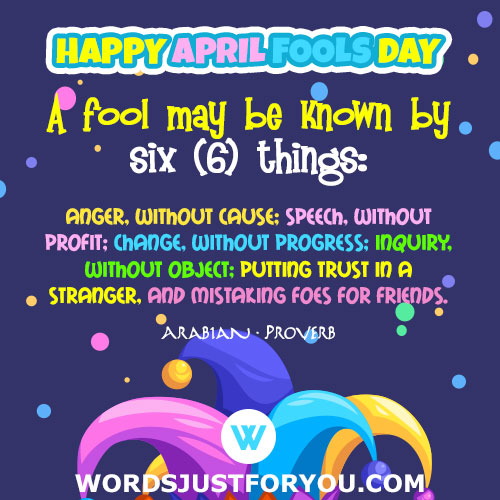 The mistakes of the fool are known to the world, but not to himself. The mistakes of the wise man are known to himself, but not to the world. ~ Charles Caleb Colton ~
View more Gifs at GreetingsGif.com and HappyNewYearGifs.com