Amazing Beautiful Colourful Balloons Animated Happy 50th Birthday GIFs and Video with Sound for Facebook, Twitter, Instagram, WhatsApp Status, and other social media services and personal messengers.
Our website offers you a wide selection of Happy 50 Birthday Gifs to wish family, friends and colleagues a Happy Birthday. Birthdays are special, and we try our best to create gifs for you to send happy birthday wishes that brings joy and happiness to the person celebrating their birthday. Send or share any of our birthday gifs and make your friends and family feel overjoyed.
Happy 50 Birthday Gif to share with family, friends and colleagues on social media or personal messengers.
Beautiful Happy 50 Birthday Gifs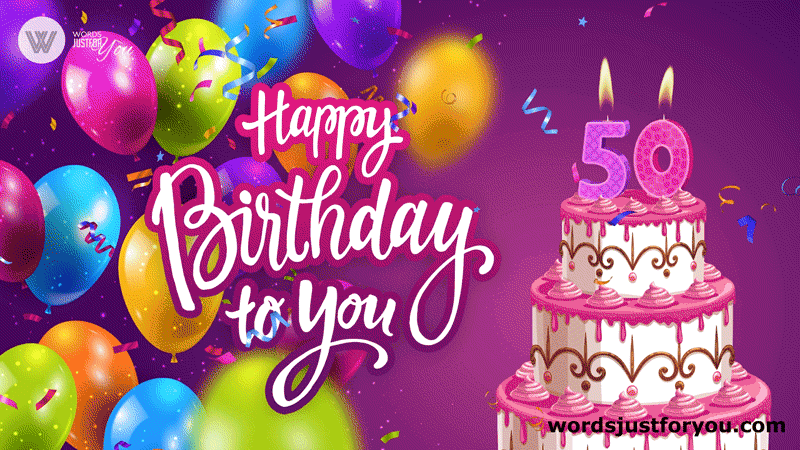 Beautiful Happy 50th Birthday Gif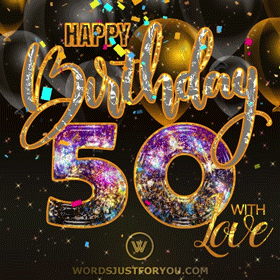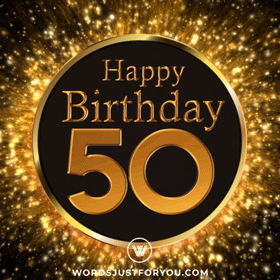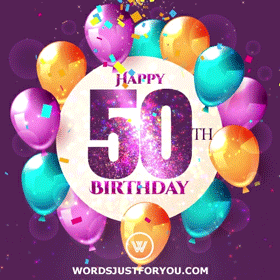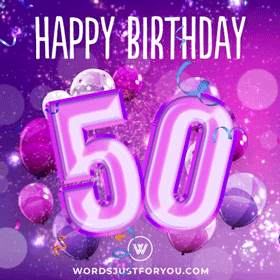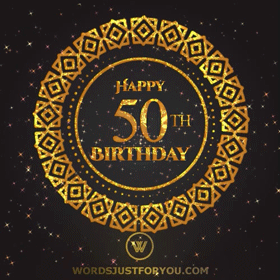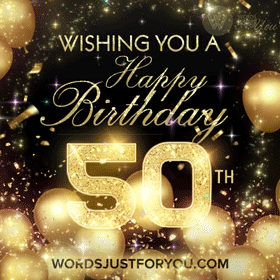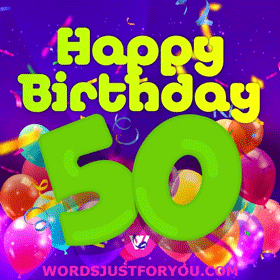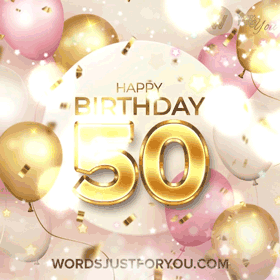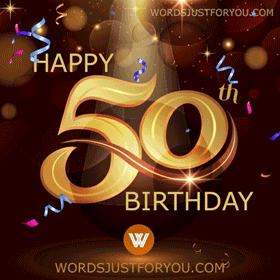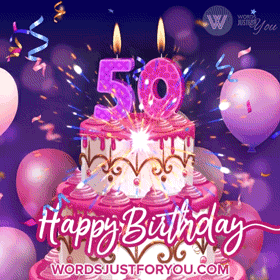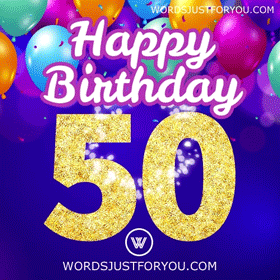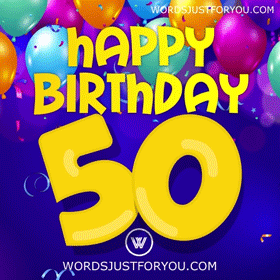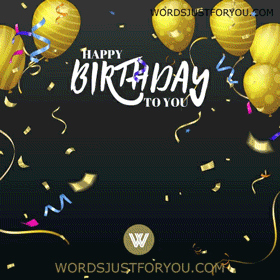 Important Notice: The images and gifs published on this site for download are protected by Digital Millennium Copyright Act (DCMA). You are NOT ALLOWED to post Gifs and images from this site on platforms such as Tenor.com, Giphy.com and other gif hosting and sharing platform or other websites to make these animated gifs and images available for re download and sharing (without coming to this site's original post). Hotlinking Images/Gifs from this site is STRICTLY PROHIBITED. Please read full Term of Use for more details.
Happy 50 Birthday Wishes
Happy 50th Birthday Wishes to you.
May your 50th birthday be the best ever!
Wishing a wonderful 50th birthday, to a great person. What a milestone!
Happy 50th Birthday! May you have a beautiful birthday.
Happy 50th Birthday to you. You are only 50 years younger. May you have peace, joy, love and happiness forever.
Have a fabulous 50th birthday!
May this 50th birthday be a wonderful one for you. Best wishes to you.
Wishing you all the smiles and laughter. Happy 50th Birthday Fabulous!
May the Almighty God shower his blessings upon you. Have a wonderful 50th birthday. I pray that your life is filled with everything that makes you happy. Have a blessed 50th birthday.
Wishing you all the happiness and blessings this 50th birthday. May the good Lord shower his blessings upon you. Blessed 50th Birthday to you.
Wow, 50th Birthday! Have a wonderful birthday dearest. You are such a great person and I wish you all the happiness.
More Birthday Quotes
"I believe that no matter what condition you are in when someone close to your heart remembers your birthday and wishes you a happy birthday, you feel happy." – A. Singla
"Don't just count your years, make your years count." – George Meredith
"Today you have added another candle of knowledge and wisdom to your life. May it give you the power to enlighten the whole world. On your birthday, I wish you joy and happiness." – Debasish Mridha
"Don't regret another birthday, the good news is that you are alive and can celebrate it." – Catherine Pulsifer
"When the candles on your cake burn down before they are all lit you know you are getting up there." – Catherine Pulsifer
"Today is the oldest you have been, and the youngest you will ever be. Make the most of it!" – Nicky Gumbel
HD Happy 50 Birthday Balloons & Cake Gif Video Card
Wish your family, friends or colleagues a Happy Birthday with this HD Happy Birthday Video Card on their special birthday.
HD Happy 50th Birthday Wishes Gif Video Greetings
100+ Original Designed Happy Birthday Gifs

Thank you for visiting our Website. This encourages our team to continue to develop and design latest animated gifs and cards on a regular basis! Our website offers you a wide selection of animated gifs, ecards, quotes and images.
How to Download Gifs/Images from our Website?