Feast of St. Francis Gif – St. Francis Prayers & Quotes for Facebook, Twitter, Whatsapp and other messengers to share with family and friends.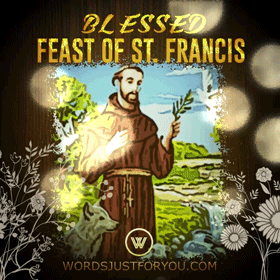 Feast of St. Francis Gif – Wish your family and friends Blessed Feast of St. Francis with this Blessed Feast of St. Francis Gif. Available for download and sharing on personal messengers.
Saint Francis is a Catholic Church's patron saint of animals and the environment who was born in the 12th Century. The feast commemorates the life of Saint Francis of Assisi.
The Feast of St. Francis
Peace Prayer by St. Francis
Lord, make me an instrument of Your peace
Where there is hatred, let me sow love;
Where there is injury, pardon;
Where there is doubt, faith;
Where there is despair, hope;
Where there is darkness, light;
And where there is sadness, joy.

O Divine Master,
Grant that I may not so much seek
To be consoled as to console;
To be understood, as to understand;
To be loved, as to love;
For it is in giving
that we receive,
It is in pardoning that we are pardoned,
And it is in dying that we are
born to Eternal Life.
Amen.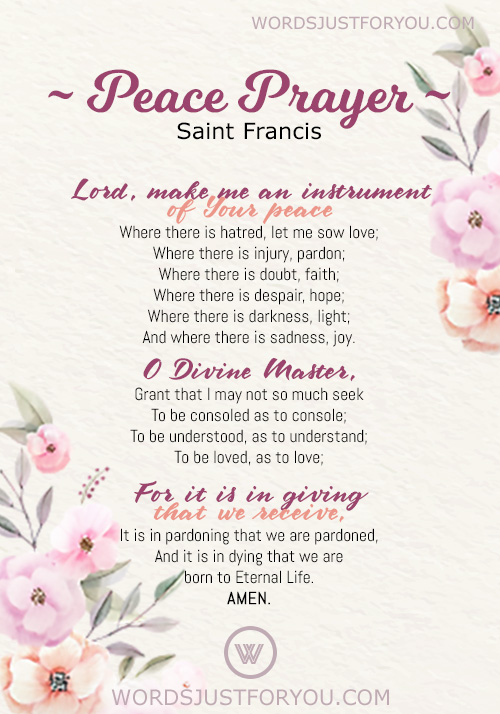 Quotes by Saint Francis of Assisi
Remember that when you leave this earth, you can take with you nothing that you have received – only what you have given: a full heart, enriched by honest service, love, sacrifice and courage.
"Start by doing what's necessary; then do what's possible; and suddenly you are doing the impossible." ~ Saint Francis of Assisi ~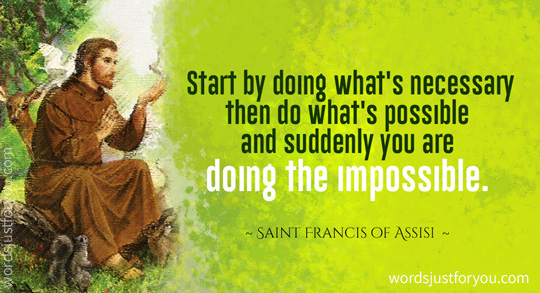 "Lord, help me to live this day, quietly, easily. To lean upon Thy great strength, trustfully, restfully. To wait for the unfolding of Thy will, patiently, serenely. To meet others, peacefully, joyously. To face tomorrow, confidently, courageously." ~ Saint Francis of Assisi ~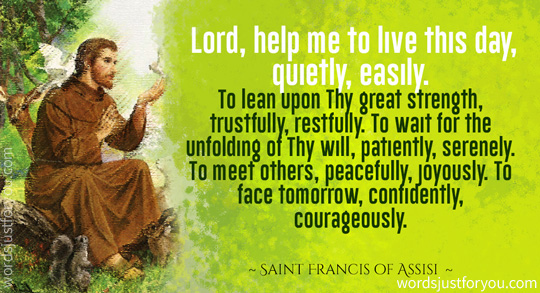 "God requires that we assist the animals, when they need our help. Each being (human or creature) has the same right of protection." ~ Saint Francis of Assisi ~
"The only thing ever achieved in life without effort is failure." ~ Saint Francis of Assisi ~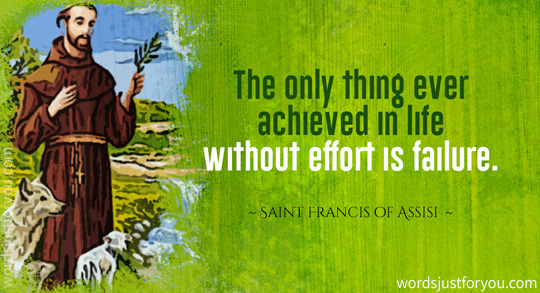 "It is no use walking anywhere to preach unless our walking is our preaching." ~ Saint Francis of Assisi ~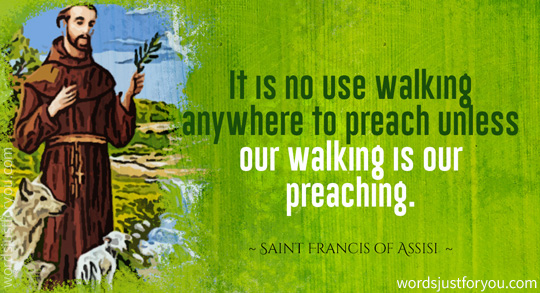 "By the anxieties and worries of this life Satan tries to dull man's heart
and make a dwelling for himself there." ~ Saint Francis of Assisi ~
You cannot all abandon your possessions, but at least you can change your attitude about them. All getting separates you from others; all giving unites to others. ~ Saint Francis ~
"What could you do to a man who owns nothing? You can't starve a fasting man, you can't steal from someone who has no money, you can't ruin someone who hates prestige." ~ Saint Francis ~
For more Daily Gifs, please click on this LINK
View more Gifs at GreetingsGif.com and HappyNewYearGifs.com