Animated Eid Mubarak Gif – Eid Mubarak Card for Facebook, Twitter, Whatsapp and other messengers to share with family and friends.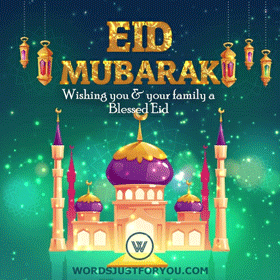 Wish Eid Mubarak (Eid al–Fitr, Eid ul–Fitr, Id-Ul–Fitr, Eid) on this special occasion this Animated Eid Mubarak Gif and Cards. Available for download and sharing on personal messengers.
Ramadan is a month of fasting observed by Muslims worldwide, from the sighting of crescent moon both at the beginning and end. This holy month is the nineth month of the Islamic calendar which commemorates the first revelation by Muhammad. It is observed through fasting (dawn to sunset), prayer, devotion and worship. At sunset, the fast is ended with Iftar (dates, sweet dishes, juice, water, fruits, appetizers, meal, etc.) End of Ramadan is marked with celebration of Eid al-Fitr (which is a religious holiday observed by Muslims).