Animated Christmas Bible Verse Gif for Whatsapp, Facebook, Twitter, messengers and sharing with family and friends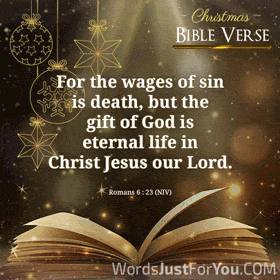 Christmas Bible Verse
For the wages of sin is death, but the gift of God is eternal life in Christ Jesus our Lord

Romans 6:23 (NIV)
Merry Christmas and A Blessed New Year !
Whether you like to say Merry Christmas, Happy Christmas, Feliz Navidad, Happy Holidays, Season's Greetings or any other specific way, we sure wish you and your loved ones a great time of togetherness, fun and enjoyment.
Merry Christmas and a Blessed New Year !

Animated Christmas Bible Verse Gif for Whatsapp, Facebook, Twitter, Instagram, and other messengers
You may also like the following posts:
More related posts:
1. https://www.wordsjustforyou.com/merry-christmas-gif-28/
2. https://www.wordsjustforyou.com/cute-merry-christmas-gif-5605/
3. Animated Merry Christmas Gif – 5620