March Daily Quotes for Facebook, Twitter, Whatsapp and other messengers to share with family and friends.
March Daily Quotes – March 1: Accept the challenges so that you can feel the exhilaration of Victory. By George S. Patton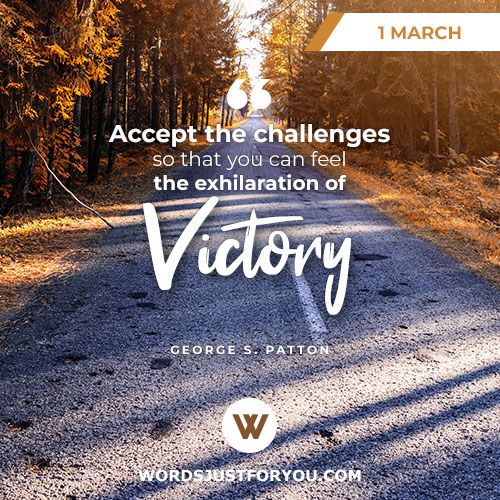 March Daily Quotes – March 2: We should not give up and we should not allow the problem to defeat us. By A. P. J. Abdul Kalam
March 3: Only I can change my life. No one can do it for me. By Carol Burnett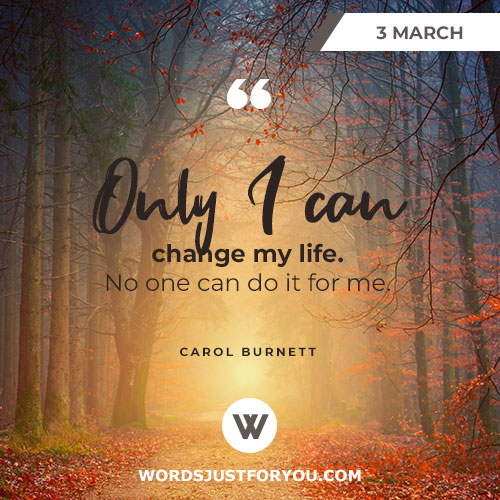 March 4: There's a way to do it better – find it. By Thomas A. Edison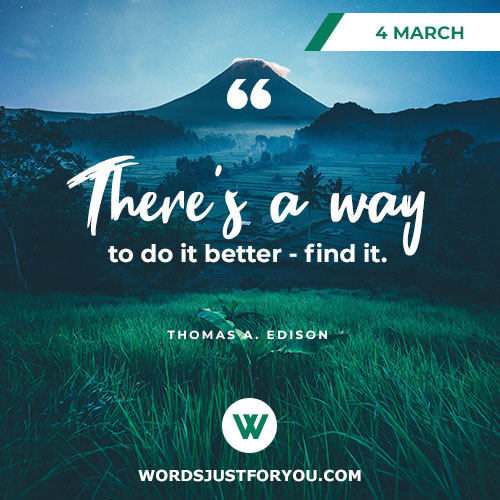 March 5: The will to succeed is important, but what's more important
is the will to prepare. By Bobby Knight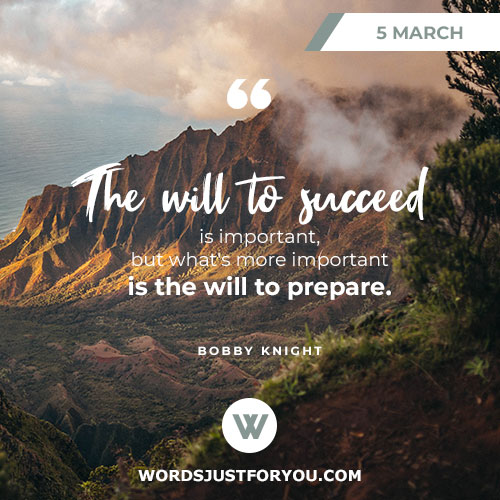 March 6: You just can't beat the person who Never Gives Up. By Babe Ruth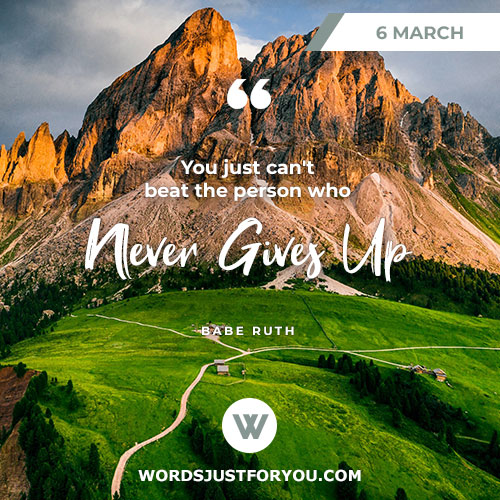 March 7: We may encounter many defeats but we must not be
Defeated. By Maya Angelou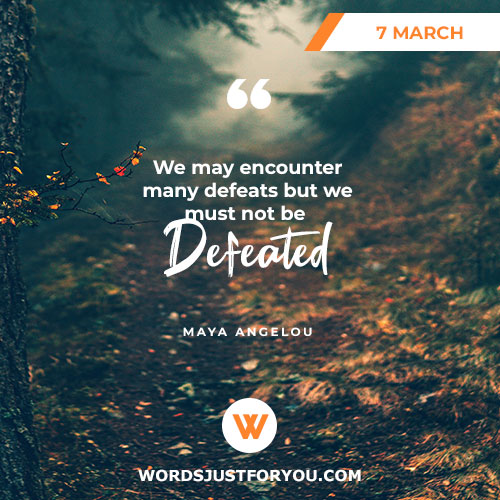 March 8: Go for it Now. The future is promised to no one. By Wayne Dyer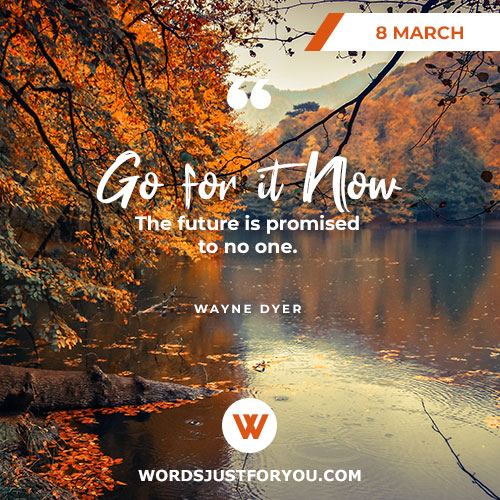 March 9: Do not dwell in the past, do not dream of the future, concentrate the mind on the Present Moment. ~ Buddha ~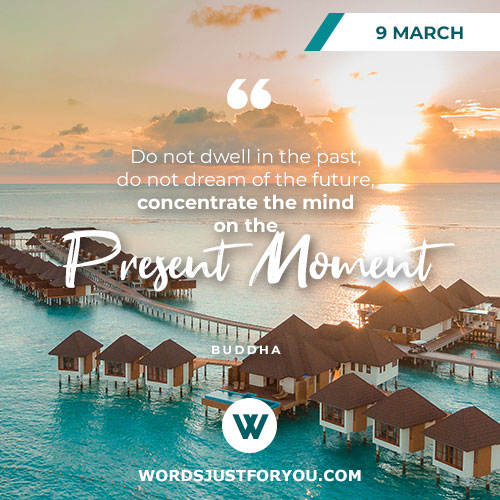 March 10: You need to overcome the tug of people against you as you reach for High Goals. ~ George S. Patton ~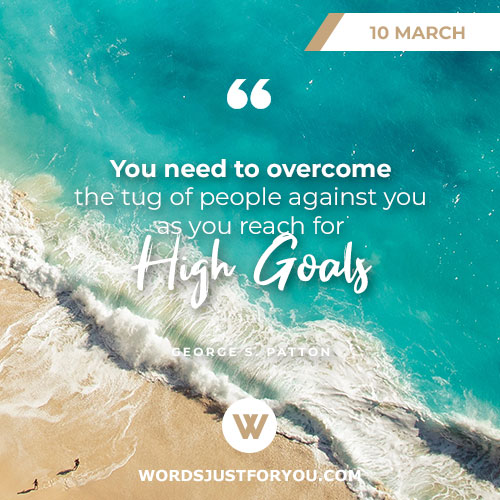 March 11: A goal is a dream with a Deadline. ~ NAPOLEON HILL ~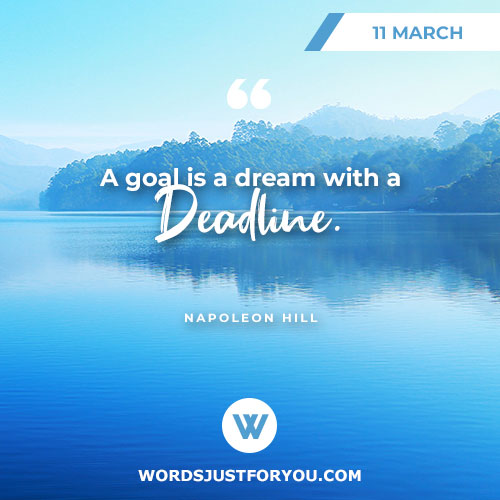 March 12: Motivation is the art of getting people to do what you want them to do because they want to do it. Dwight D. Eisenhower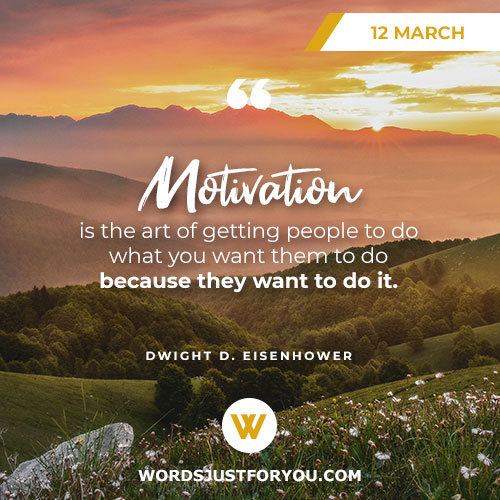 March 13: Optimism is the faith that leads to achievement. Nothing can be done without hope and confidence. Helen Keller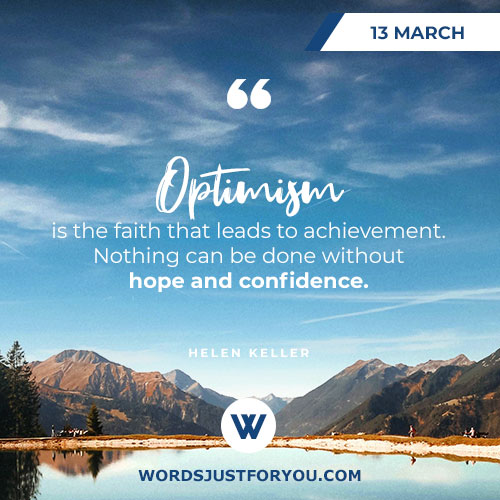 March 14: You must take ACTION now that will move you towards your goals. Develop a sense of urgency in your life. H. Jackson brown, Jnr.
March 15: You can't expect to hit the jackpot if you don't put a few nickels in the machine. Flip Wilson
March 16: Perfection is not attainable, but if we chase perfection we can catch Excellence. Vince Lombardi
March 17: If Opportunity doesn't knock, build a door. Milton Berle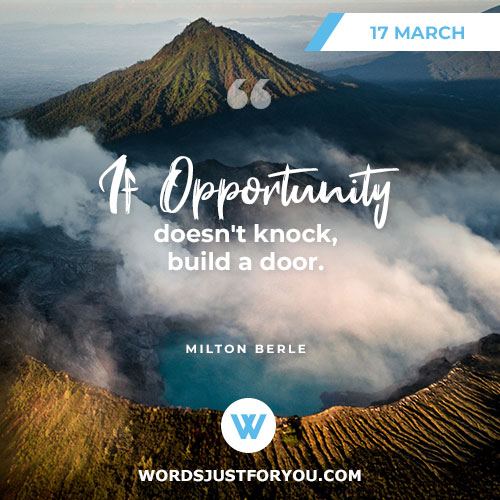 March 18: Cherish your Vision and your Dreams as they are the children of your soul, the blueprints of your ultimate achievements. Napoleon Hill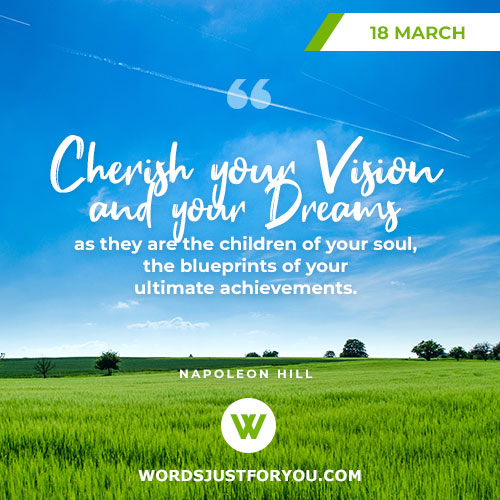 March 19: When we seek to discover the best in others, we somehow bring out the Best in Ourselves. William Arthur Ward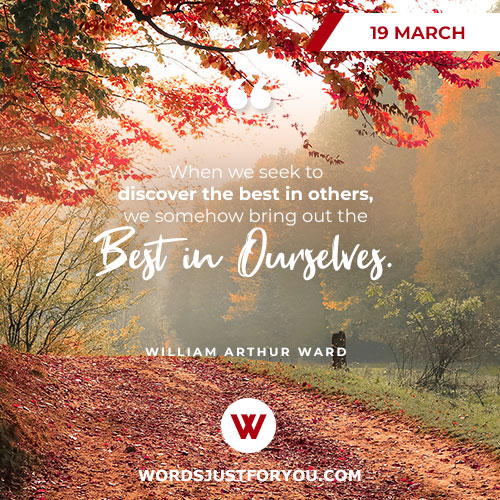 March 20: Thousands of candles can be lighted from a single candle, and
the life of the candle will not be shortened. Happiness never decreases by
being shared. Buddha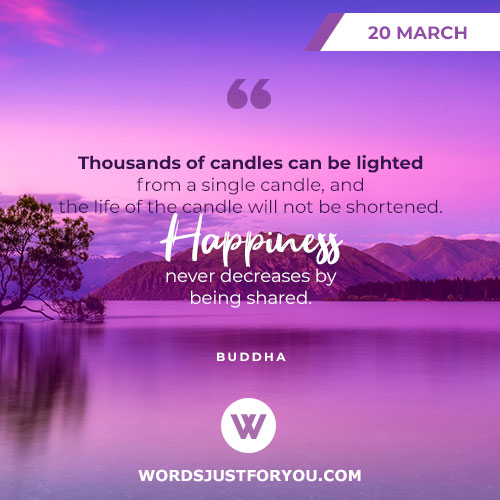 March 21: Honesty is often very hard. The truth is often painful. But the freedom it can bring is worth the trying. Fred Rogers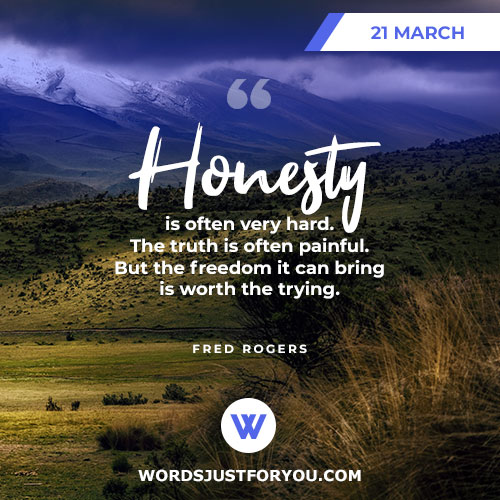 March Daily Quotes – March 22: Honesty is telling the truth to ourselves and others. Integrity is living that truth. Kenneth H. Blanchard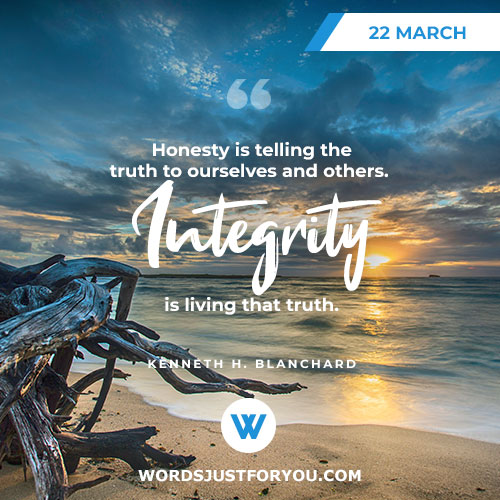 March Daily Quotes – March 23: Properly used, Positive Reinforcement is extremely powerful. B.F. Skinner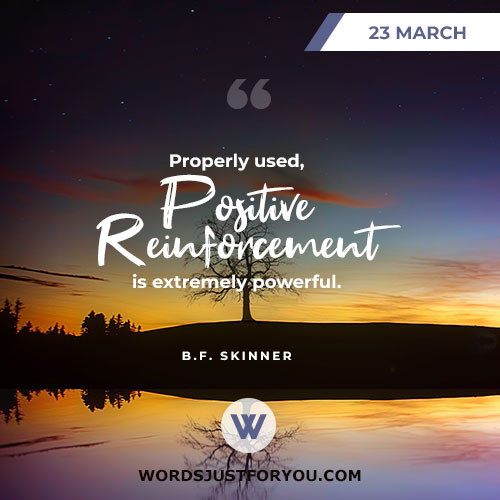 March Daily Quotes – MARCH 24: Just when the caterpillar thought the world was ending he turned into a butterfly. ~ Proverb ~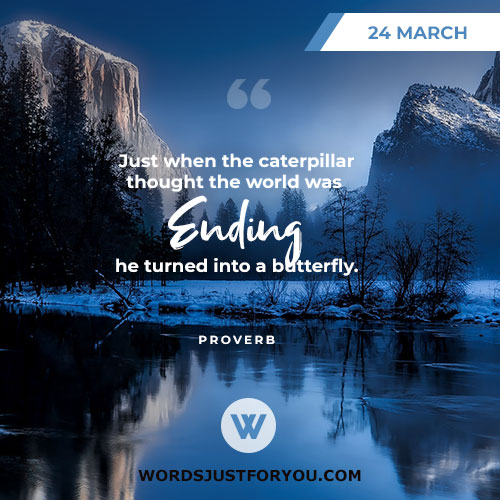 March Daily Quotes – MARCH 25: I believe that the only courage anybody ever needs is the courage to follow your own Dreams. ~ Oprah Winfrey ~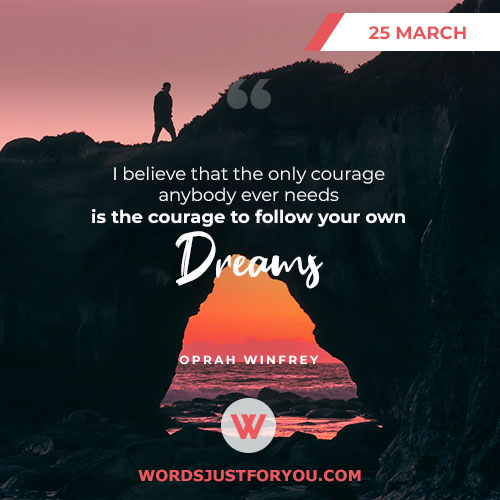 March Daily Quotes – MARCH 26: There are two types of people who will tell you that you cannot make a difference in this world: those who are afraid to try and those who are afraid you will Succeed. ~ Ray Goforth ~
March Daily Quotes – MARCH 27: All progress takes place outside the
Comfort Zone. ~ Michael John Bobak ~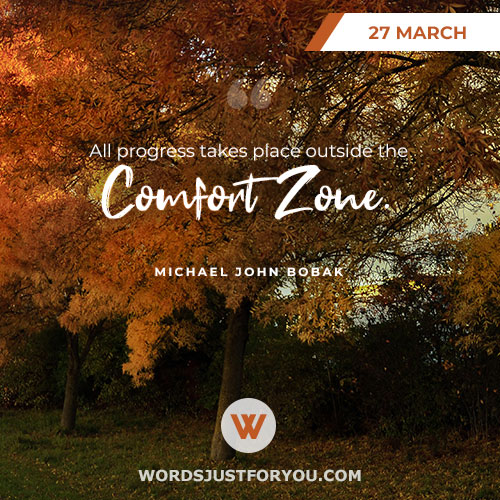 March Daily Quotes – MARCH 28: Too many of us are not living our dreams because we are living our Fears. ~ Les Brown ~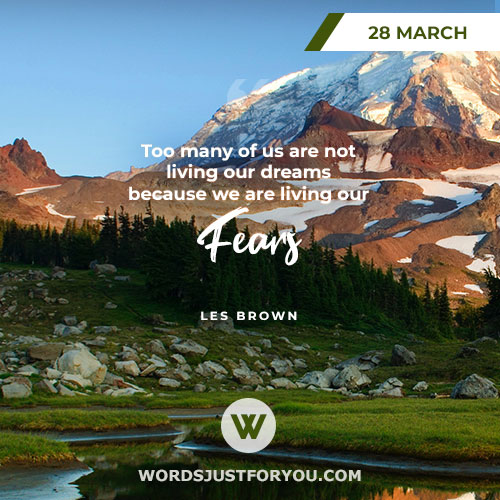 March Daily Quotes – MARCH 29: Too many of us are not living our dreams because we are living our Fears. ~ Les Brown ~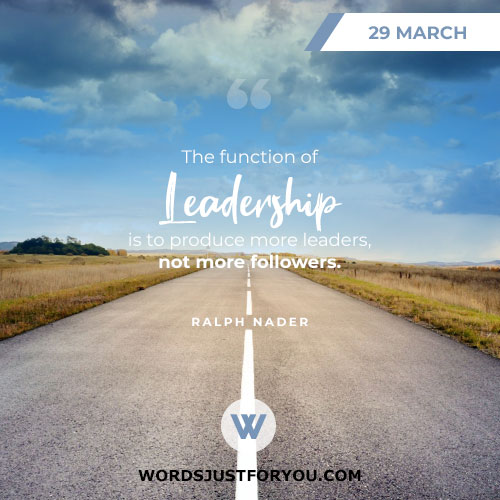 March Daily Quotes – MARCH 30: Whenever you find yourself on the side of the majority, it is time to pause and Reflect. ~ Mark Twain ~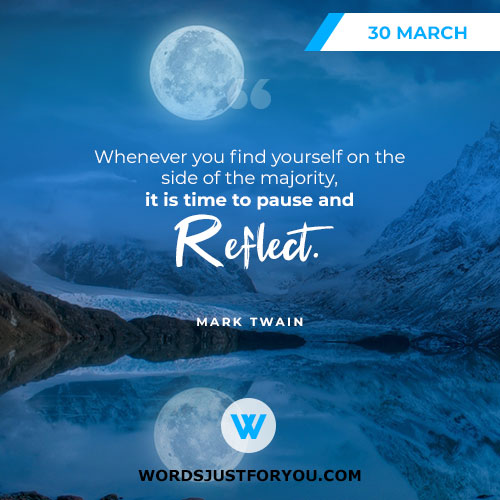 March Daily Quotes – MARCH 31: Develop success from failures. Discouragement and failure are two of the surest stepping stones to
Success. ~ Dale Carnegie ~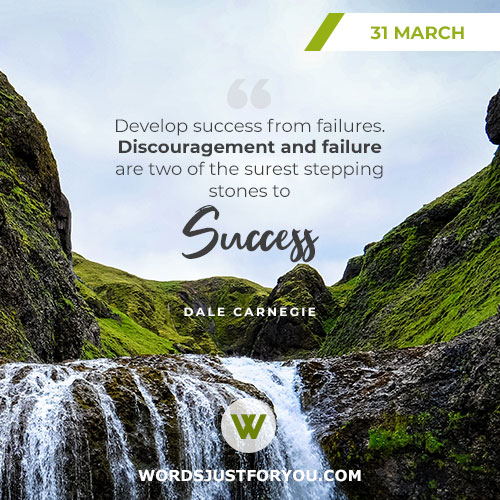 View more Gifs at GreetingsGif.com and HappyNewYearGifs.com
Latest Posts