April Daily Quotes for Facebook, Twitter, Whatsapp and other messengers to share with family and friends.
April Daily Quotes – April 1: A fool may be known by six (6) things: Anger, without cause; Speech, without profit; Change, without progress; Inquiry, without object; Putting trust in a stranger; Mistaking foes for friends ~ Arabian Proverb ~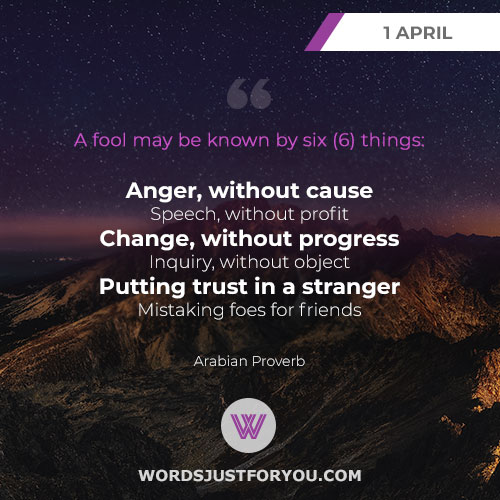 (Right Click Image to Download)
April Daily Quotes – April 1: What a fool does in the end, the wise do in the beginning. ~ Spanish Proverb ~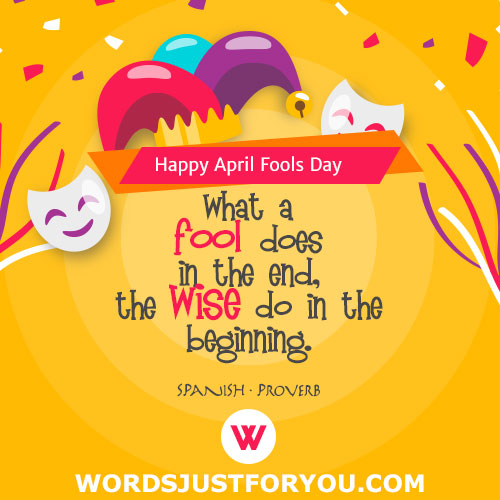 IMPORTANT NOTICE: *
The images and gifs published on this site for download are protected by Digital Millennium Copyright Act (DCMA). You are NOT ALLOWED to post Gifs and images from this site on platforms such as Tenor.com, Giphy.com and other gif hosting and sharing platform or other websites to make these animated gifs and images available for re download and sharing (without coming to this site's original post). Hotlinking Images/Gifs from this site is STRICTLY PROHIBITED. Please read full Term of Use for more details.
(Right Click Image to Download)
April Daily Quotes – April 2: To accomplish great things, we must not only act, but also dream, not only plan, but also believe. ~ Anatole France ~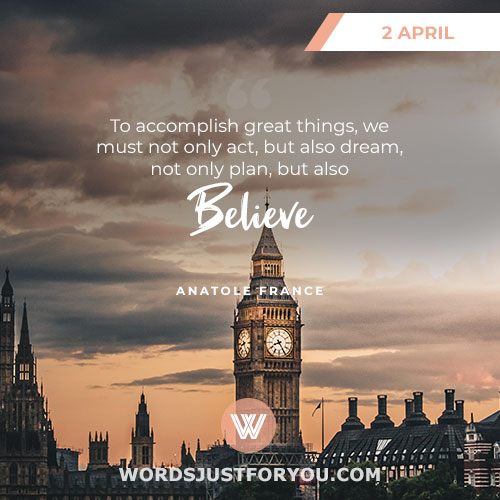 (Right Click Image to Download)
April Daily Quotes – April 3: Always make a Total Effort even when the odds are against you. ~ Arnold Palmer ~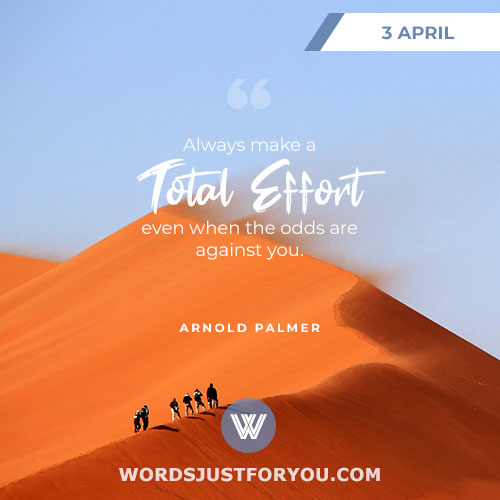 (Right Click Image to Download)
April Daily Quotes – April 4: It is during our darkest moments that we must focus to see the light. Aristotle Onassis
(Right Click Image to Download)
April Daily Quotes – April 5: Don't Wait for your feelings to change to take the action. Take the action and your feelings will change. ~ Barbara Baron ~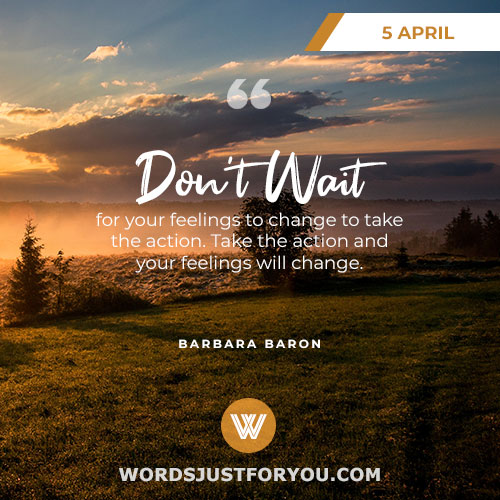 April Daily Quotes – April 6: The Difference between a stumbling block and a stepping stone is how high you raise your foot. ~ Benny Lewis ~
April Daily Quotes – April 7: As we look ahead into the next century, leaders will be those who empower others. ~ Bill Gates ~
April Daily Quotes – April 8: Success comes from having dreams that are bigger than your fears. ~ Bobby Unser ~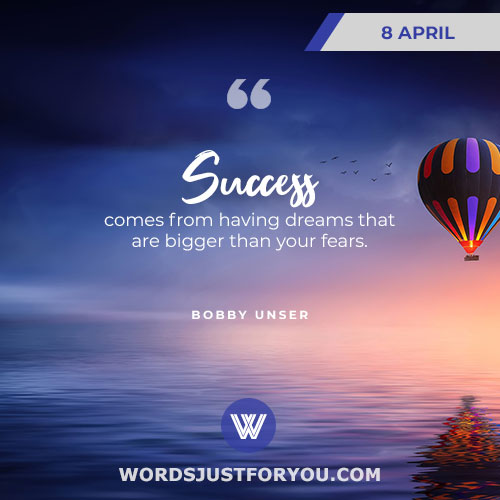 April Daily Quotes – April 9: You measure the size of the
Accomplishment by the obstacles you had to overcome to reach your goals. ~ Booker T. Washington ~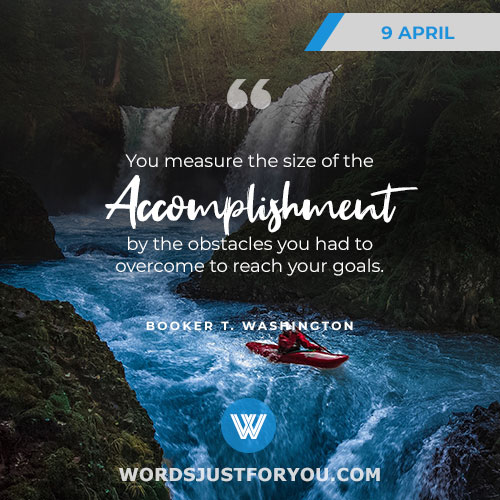 April Daily Quotes – April 10: Never do tomorrow what you can do today. Procrastination is the thief of time. ~ Charles Dickens ~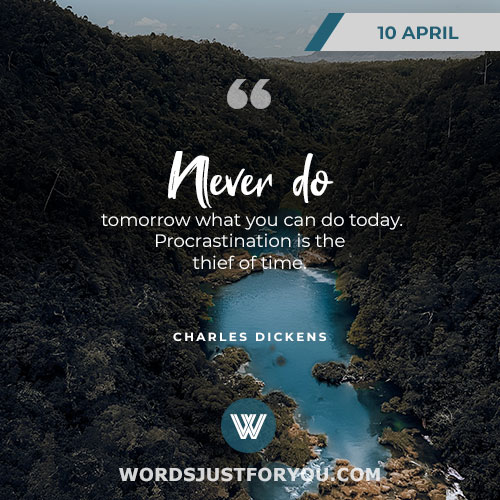 April Daily Quotes – April 11: Don't spend time beating on a wall, hoping to transform it into a door. ~ Coco Chanel ~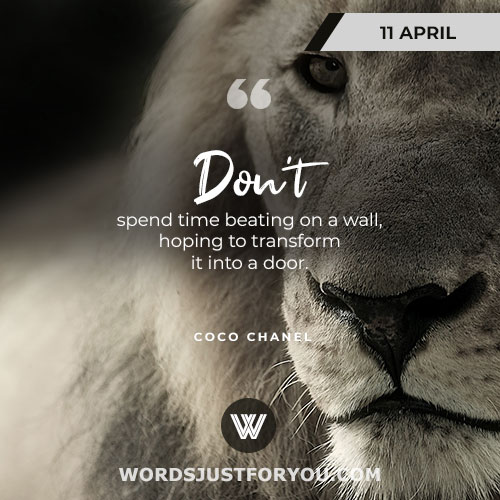 April Daily Quotes – April 12: The road to success and the road to failure are almost exactly the same. ~ Colin R. Davis ~
April Daily Quotes – April 13: There are far, far better things ahead than any we leave behind. ~ CS Lewis ~
April Daily Quotes – April 14: Remember that not getting
what you want is sometimes a wonderful stroke of Luck. ~ Dalai Lama ~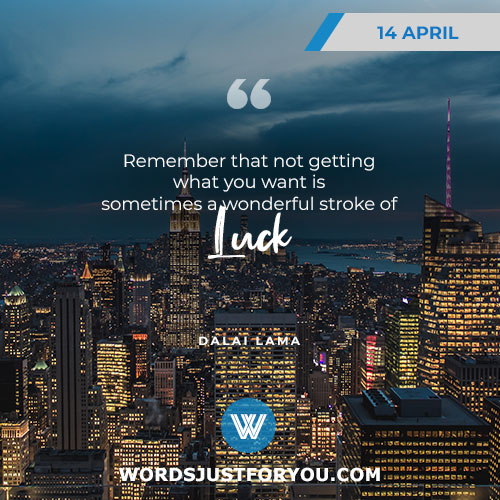 April Daily Quotes – April 15: A Successful Man is one who can lay a firm foundation with the bricks others have thrown at him. ~ David Brinkley ~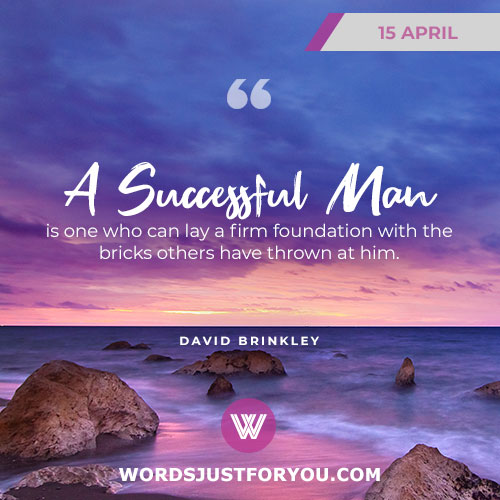 April Daily Quotes – April 16: Winners Never Quit and quitters never win. ~ Vince Lombardi ~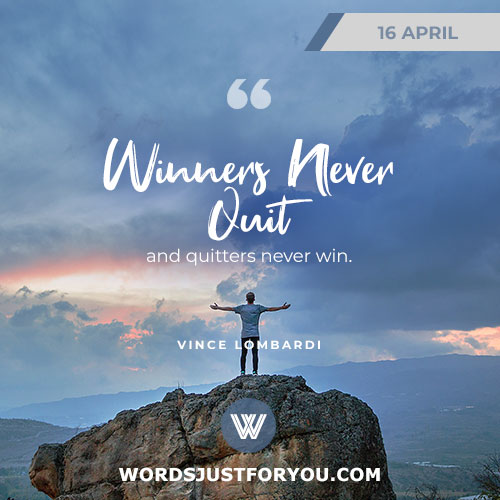 April Daily Quotes – April 17: The future belongs to those who believe in the beauty of their Dreams. ~ Eleanor Roosevelt ~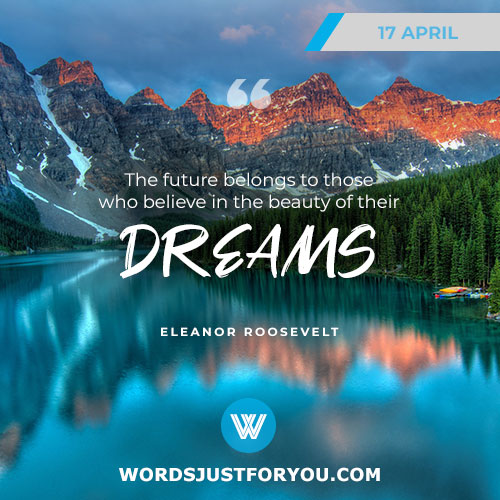 April Daily Quotes – April 18: Build your own DREAMS or someone else will hire you to build theirs. ~ Farrah Gray ~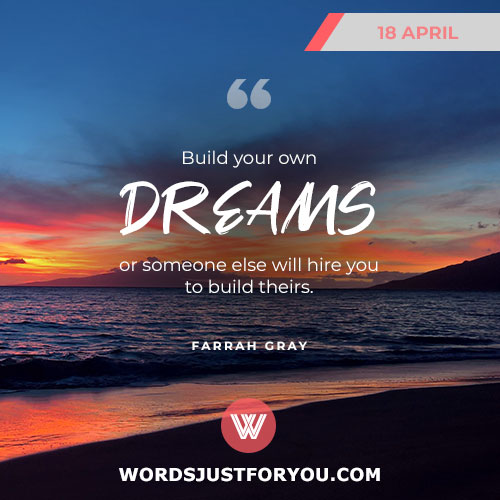 April Daily Quotes – April 19: PRESS FORWARD. Do not stop, do not linger in your journey, but strive for the mark set before you. ~ George Whitefield ~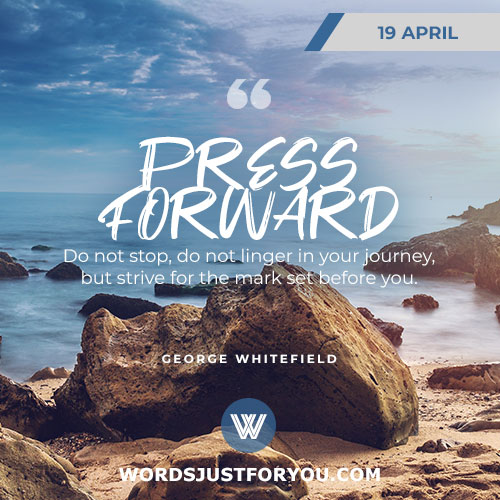 April Daily Quotes – April 20: Never give up for that is just the place and time that the tide will turn. ~ Harriet Beecher Stow ~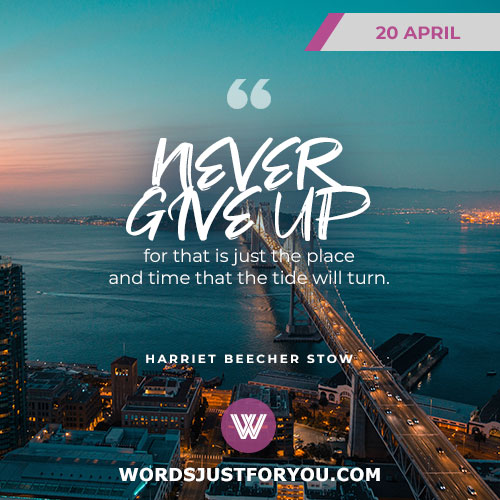 April Daily Quotes – April 21: OBSTACLES don't have to stop you.
If you run into a wall, don't turn around and give up. ~ Michael Jordan ~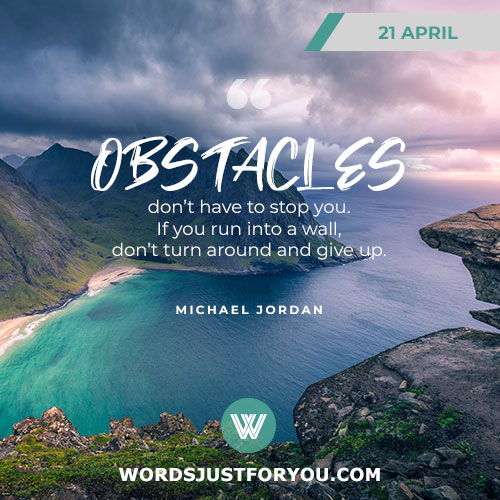 April Daily Quotes – April 22: It's not what you look at that matters, it's WHAT YOU SEE. ~ Henry David Thoreau ~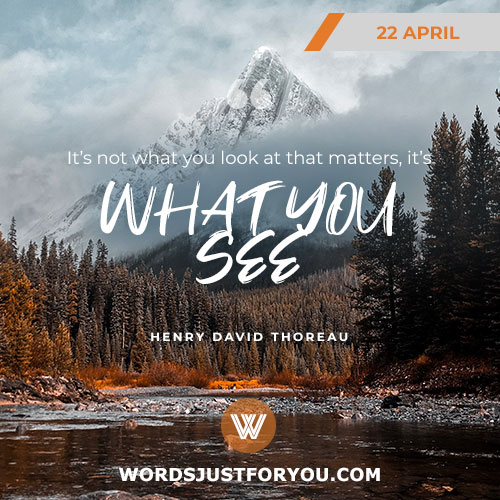 April Daily Quotes – April 23: It is better to fail in Originality than to succeed in imitation. ~ Herman Melville ~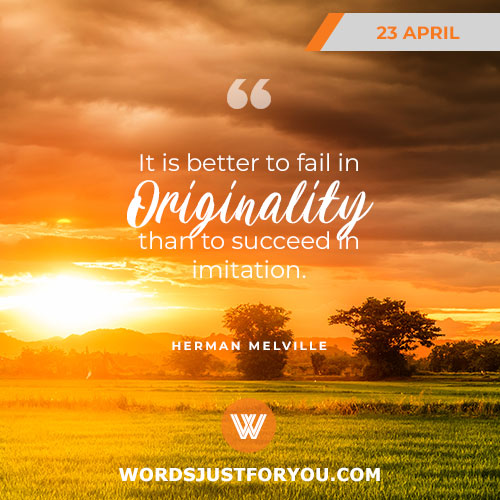 April Daily Quotes – April 24: Don't Be Afraid to give up the good to go for the great. ~ John D. Rockefeller ~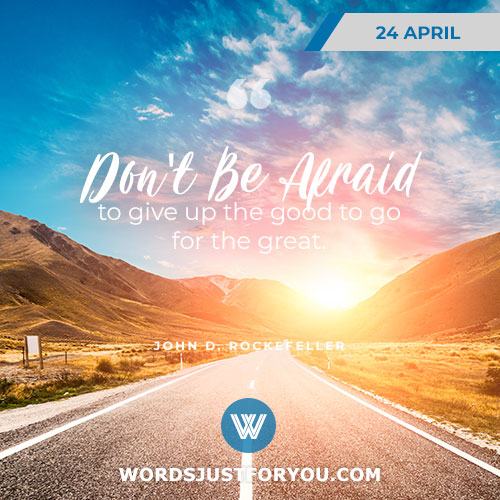 April Daily Quotes – April 25: If you want to make a Permanent Change, stop focusing on the size of your problems and start focusing on the size of you! ~ T. Harv Eker ~
April Daily Quotes – April 26: We can't help everyone, but everyone can help someone. ~ Ronald Reagan ~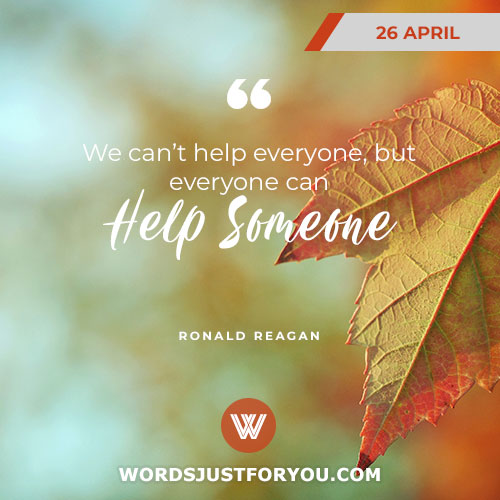 April Daily Quotes – April 27: If you're offered a seat on a rocket ship, don't ask what seat! Just Get On. ~ Sheryl Sandberg ~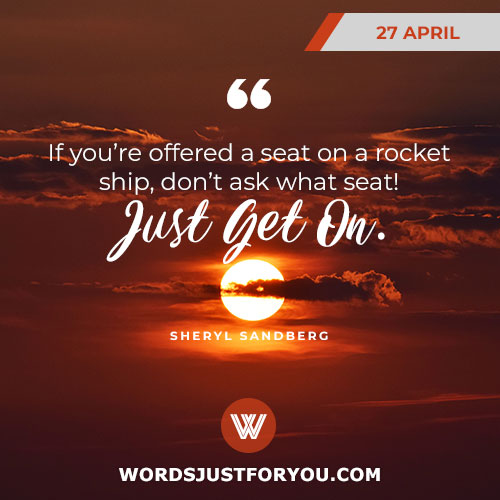 April Daily Quotes – April 28: I am not a product of my circumstances. I am a product of My Decisions. ~ Stephen Covey ~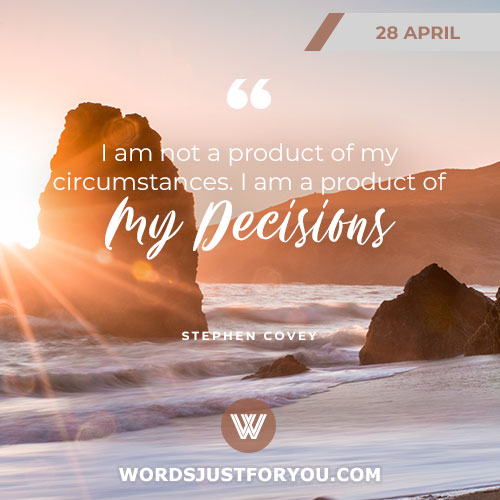 April Daily Quotes – April 29: Motivation is a fire from within. If someone else tries to light that fire under you, chances are it will burn very briefly. ~ Stephen Covey ~
April Daily Quotes – April 30: Don't downgrade Your Dream
just to fit your reality. Upgrade your conviction to match your destiny. ~ Stuart Scott ~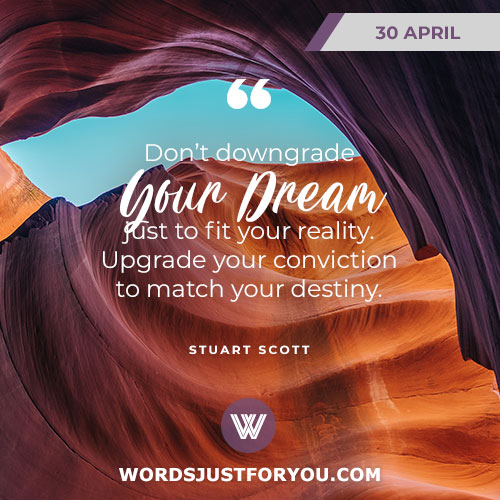 View Gifs at GreetingsGif.com and HappyNewYearGifs.com
Latest Posts