World Health Day Quotes for Facebook, Twitter, Whatsapp and other messengers to share with family and friends.
20 x World Health Day Quotes
World Health Day Quote: "Time and health are two precious assets that we don't recognize and appreciate until they have been depleted." ~ Denis Waitley ~
World Health Day Quote: "Looking after my health today gives me a better hope for tomorrow." ~ Anne Wilson Schaef ~
"The health of the people is really the foundation upon which all their happiness and all their powers as a state depend." ~ Benjamin Disraeli ~
"Lucius Annaeus SenecHealth is the soul that animates all the enjoyments of life, which fade and are tasteless without it." Lucius ~ Annaeus Seneca ~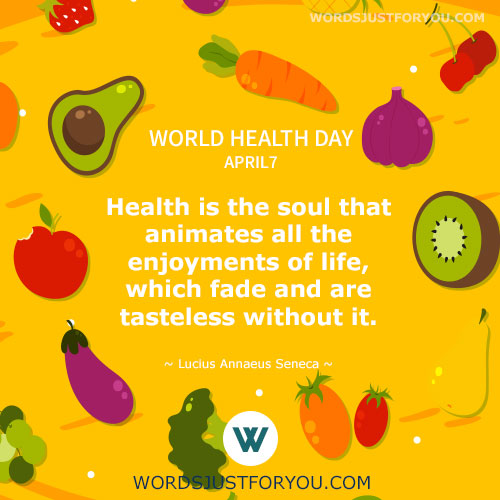 World Health Day Quote: "All the money in the world can't buy you back good health." ~ Reba McEntire ~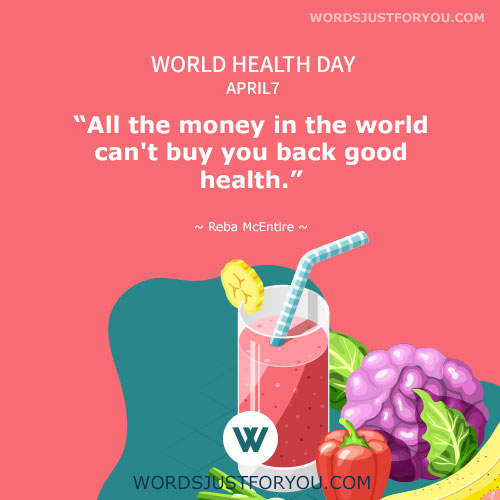 World Health Day Quote: "High-quality food is better for your health." ~ Michael Pollan ~
World Health Day Quote: "Make hunger thy sauce, as a medicine for health." ~ Thomas Tusser ~
What is World Health Day about?
7 April 2020 is the day to celebrate the work of nurses and midwives and remind world leaders of the critical role they play in keeping the world healthy. Nurses and other health workers are at the forefront of COVID-19 response – providing high quality, respectful treatment and care, leading community dialogue to address fears and questions and, in some instances, collecting data for clinical studies. Quite simply, without nurses, there would be no response.
In this International Year of the Nurse and the Midwife, World Health Day will highlight the current status of nursing and around the world. WHO and its partners will make a series of recommendations to strengthen of the nursing and midwifery workforce.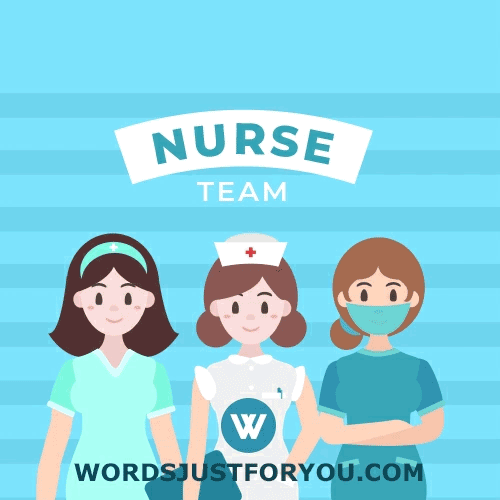 This will be vital if we are to achieve national and global targets related to universal health coverage, maternal and child health, infectious and non-communicable diseases including mental health, emergency preparedness and response, patient safety and the delivery of integrated, people-centered care, amongst others.
We are calling for your support on World Health Day to ensure that the nursing and midwifery workforces are strong enough to ensure that everyone, everywhere gets the healthcare they need.
World Health Day Information Source: https://www.who.int/news-room/campaigns/world-health-day/world-health-day-2020
Show support for all health workers and professionals on this World Health Day.
World Health Day Quotes
"To keep the body in good health is a duty…otherwise we shall not be able to
keep our mind strong and clear." ~ Buddha ~
"The first wealth is health." ~ Ralph Waldo Emerson ~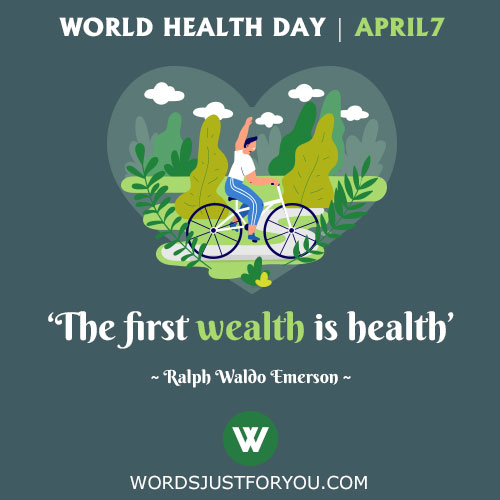 World Health Day Quote: "Hearty laughter is a good way to jog internally without having to go outdoors." Norman Cousins
World Health Day Quote: "Your body hears everything your mind says." ~ Naomi Judd ~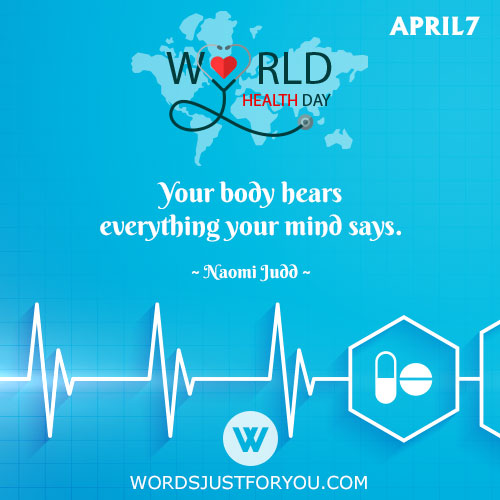 World Health Day Quote: "Sleep is that golden chain that ties health and our bodies together." ~ Thomas Dekker ~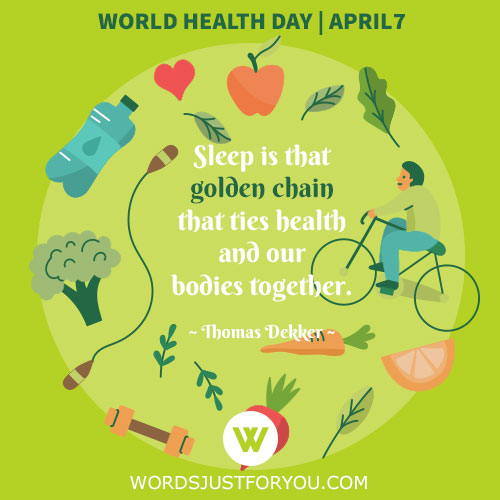 "I've learned to trust myself that I'm going to make healthy choices because I care about my health." ~ Camila Mendes ~
"Health is the greatest gift." ~ Buddha ~
"Health requires healthy food" ~ Roger Williams ~
"If you're too busy to workout, your priorities need to change. I can't think of too many things more important than your health." Rolsey
"Happiness is the highest form of health." Dalai Lama
"It is health that is real wealth and not pieces of gold and silver." ~ Mahatma Gandhi ~
"You learn good health and family are it, and nothing else matters." ~ Mike Adametz ~
"Take care of yourself, be healthy, and always believe you can be successful in anything you truly want." ~ Alessandra Ambrosio ~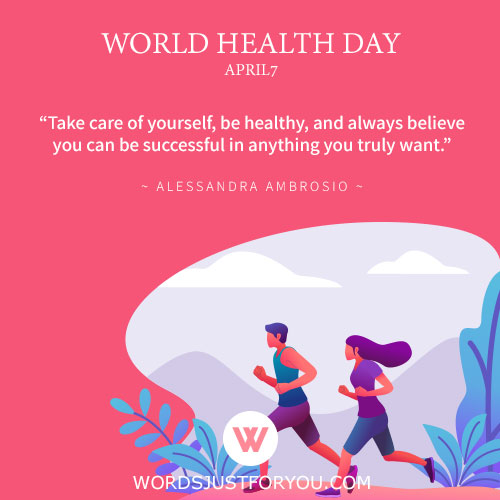 View more Gifs at GreetingsGif.com and HappyNewYearGifs.com