Daily Quotes
Our website offers you a wide selection of Motivational and Inspirational Quotes that you can use daily. Motivational and inspirational quotes are an important tool available to motivate and inspire you to reach your full potential. Daily quotes are a great way of keeping focused on your dreams and goals by navigating through life's challenges with courage and conviction. Sometimes a few words at the right time is just enough to change your perspective about a situation that can lead to success. It's never too late to change the course of your life!
Let your vision for your life guide your goals, and how you want to do achieve them. Staying motivated is a step in the right direction. You can always surround yourself with motivated people who will have a positive influence on your life. Keeping your environment positive, full of motivation and optimism can lead to greater success.
We have selected motivational and inspirational quotes that you can use daily, whether for yourself, your team or anyone who is just counting on you to make a difference in their lives.
Share our daily quotes, daily quotes for work, daily motivational quotes,motivational quotes, daily motivational quotes for august on personal messengers or social media.
Wishing you a journey filled with success, learning, challenges and most importantly happiness!
Daily Motivational Quotes
Good things take time
Daily Quotes for the month of August
August 1: "If you cannot do great things, do small things in a great way." – Napoleon Hill
August 2: "I hated every minute of training, but I said, 'Don't quit. Suffer now and live the rest of your life as a champion." – Muhammad Ali
August 3: "Opportunities don't happen. You create them." – Chris Grosser
August 4: "Go the extra mile. It's never crowded there." – Dr. Wayne D. Dyer
August 5: "Keep your face always toward the sunshine – and shadows will fall behind you." – Walt Whitman
August 6: "Every champion was once a contender that didn't give up." – Gabby Douglas
Never give up
August 7: "Believe in yourself, take on your challenges, dig deep within yourself to conquer fears. Never let anyone bring you down. You got to keep going." – Chantal Sutherland
Daily Quotes
August 8: "If you can't do anything about it then let it go. Don't be a prisoner to things you can't change." – Tony Gaskins
August 9: "You can't go back and change the beginning, but you can start where you are and change the ending." – C.S. Lewis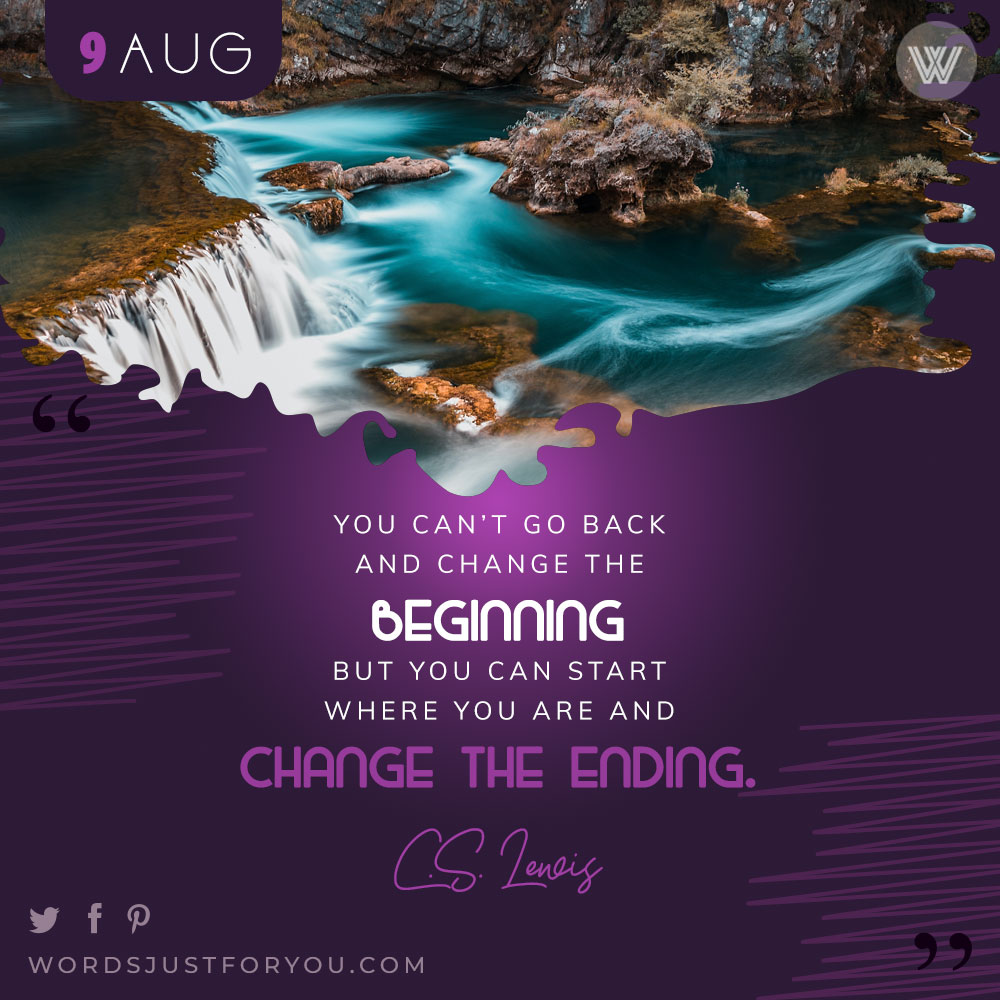 August 10: "The best way to predict your future is to create it." – Abraham Lincoln
Daily Quotes
August 11: "Opportunity does not knock, it presents itself when you beat down the door." – Kyle Chandler
August 12: "Nothing ever goes away until it teaches us what we need to know." – Pema Chodron
August 13: "Work hard and don't give up hope. Be open to criticism and keep learning. Surround yourself with happy, warm and genuine people." – Tena Desae
August 14: "Success isn't always about greatness. It's about consistency. Consistent hard work leads to success. Greatness will come." – Dwayne Johnson
August 15: "If you can't make a mistake you can't make anything." – Marva Collin
August 16: "Those who cannot change their minds cannot change anything." – George Bernard Shaw
August 17: "Those who cannot change their "Take criticism seriously, but not personally. If there is truth or merit in the criticism, try to learn from it. Otherwise, let it roll right off you." – Hillary Clinton
August 18: "If you don't get out of the box you've been raised in, you won't understand how much bigger the world is." – Angelina Jolie
August 19: "Success is not final, failure is not fatal, it is the courage to continue that counts." — Winston S. Churchill
August 20: "Magic is believing in yourself. If you can make that happen, you can make anything happen." – Johann Wolfgang Von Goethe
August 21: "Hard work beats talent when talent doesn't work hard." – Tim Notke
August 22: "Never stop doing your best just because someone doesn't give you credit." – Kamari aka Lyrikal
August 23: "Work hard, be kind, and amazing things will happen." – Conan O'Brien
August 24: "Life is not what you alone make it. Life is the input of everyone who touched your life and every experience that entered it. We are all part of one another." – Yuri Kochiyama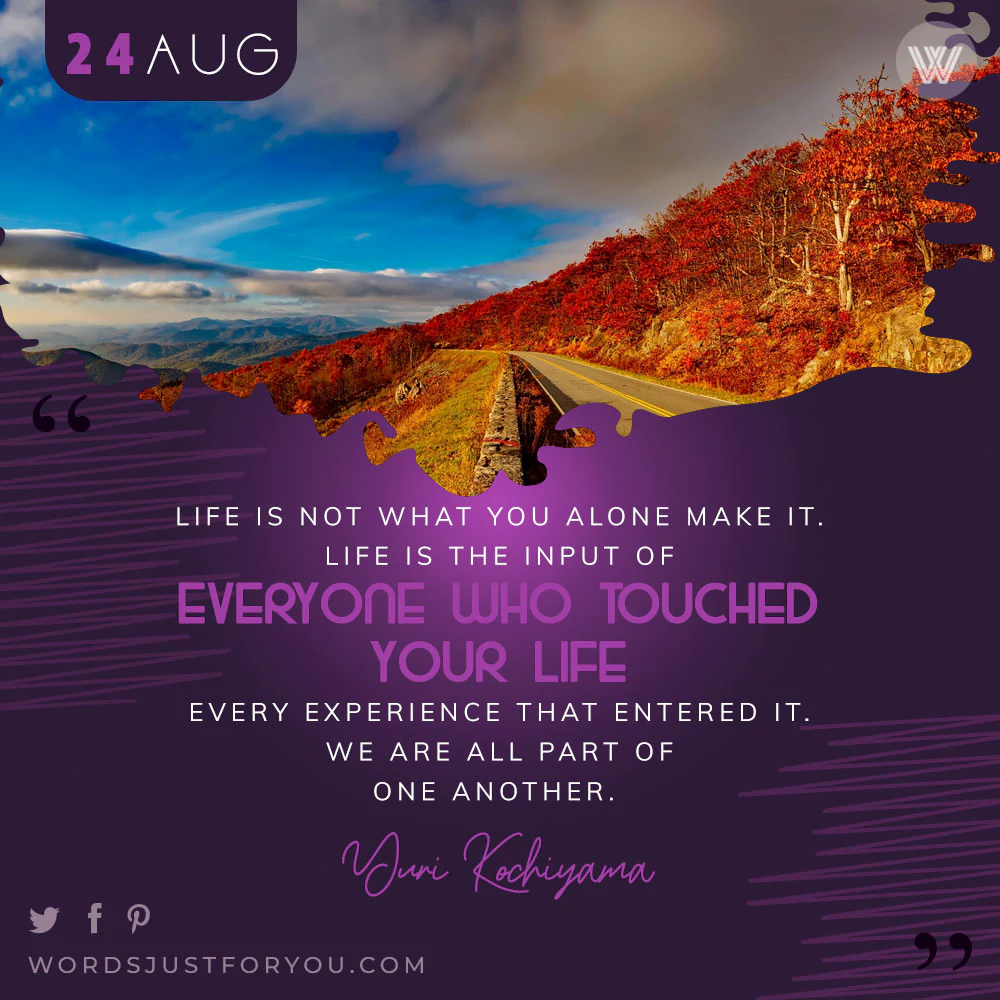 August 25: "Getting over a painful experience is much like crossing the monkey bars. You have to let go at some point in order to move forward." – C.S. Lewis
August 26: "Do what you can, with what you have, where you are." – Theodore Roosevelt
August 27: "You can do anything you set your mind to." – Benjamin Franklin
August 28: "The elevator to success is out of order. You'll have to use the stairs, one step at a time."- Joe Girard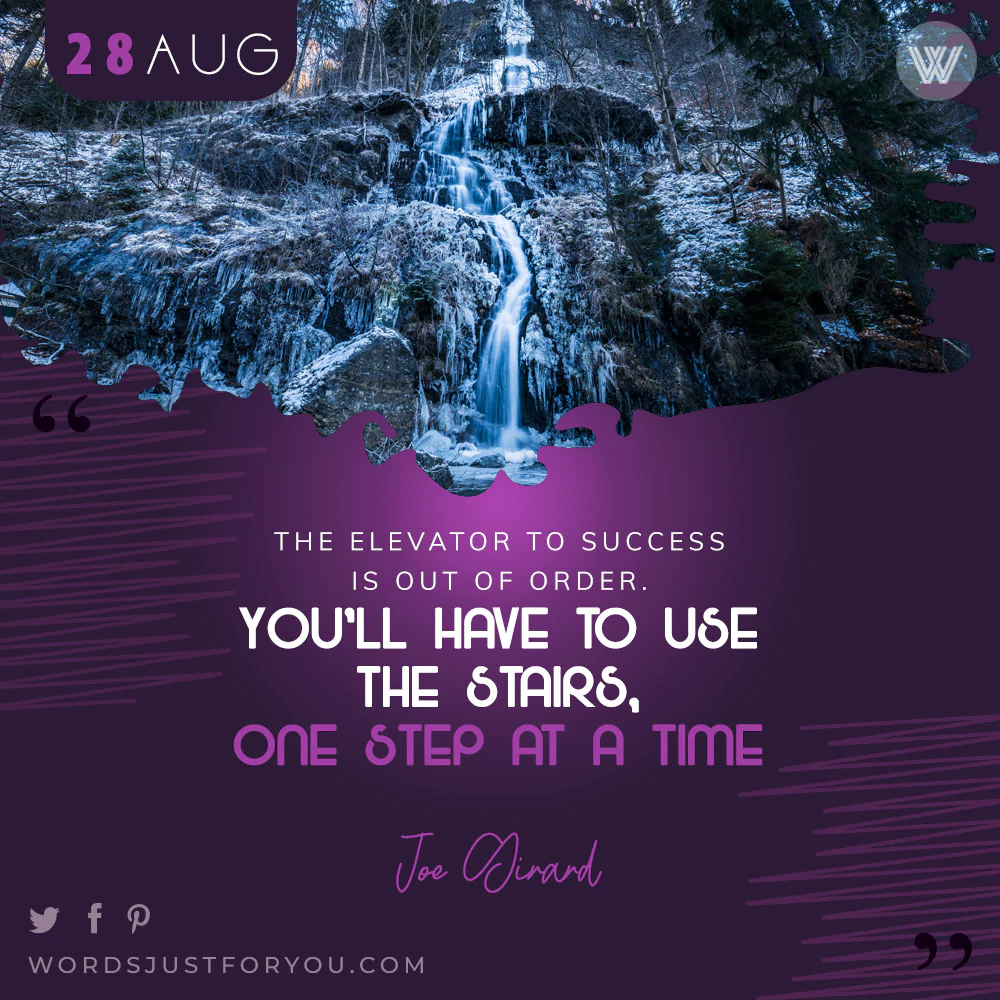 August 29: "People often say that motivation doesn't last. Well, neither does bathing – that's why we recommend it daily." – Zig Ziglar
August 30: "Talent wins games, but teamwork and intelligence win championships." Michael Jordan
August 31: "Coming together is a beginning. Keeping together is progress. Working together is success." – Henry Ford
Like, Share, Subscribe & Follow Us: WordsJustforYou
View more Gifs at GreetingsGif.com and HappyNewYearGifs.com