Anzac Day Gif – Animated Anzac Day Gif & Quotes for Facebook, Twitter, Whatsapp, other social media services and personal messengers
Anzac Day Gif
Anzac Day Gif
ANZAC Day – 25th April
ANZAC (Australia New Zealand Army Corps) Day is a day of remembrance, both in Australia and New Zealand to commemorate all Australians and New Zealanders who have served and died in wars, peacekeeping and conflicts. This day is observed on 25 April each year. ANZAC Day is one of the most important national holiday in Australia and New Zealand.

ANZAC Day Quotes
"The soldier above all others prays for peace, for it is the soldier who must suffer and bear the deepest wounds and scars of war." Douglas MacArthur
"Heroes who shed their blood and lost their lives! You are now lying in the soil of a friendly country. Therefore rest in peace." Mustafa Kemal Atatürk
"The ANZAC Day tradition has meaning for us all. And if we listen closely we can hear their mournful calls. Fighting for the freedom, the freedom of this land. Fighting for their loved ones, on that cold and desolate sand." Anthony T. Hincks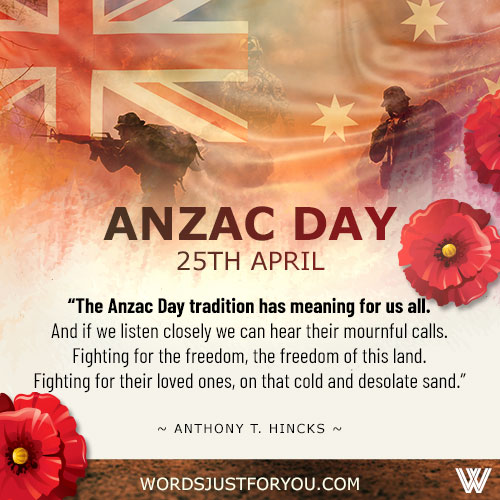 "Lest we forget it is easy to be human, very hard to be humane." Mirza Asadullah Khan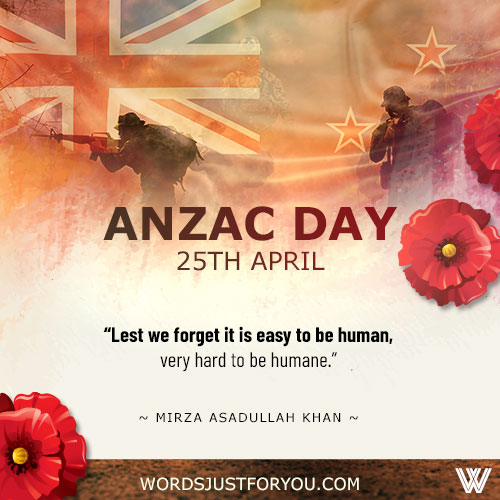 IMPORTANT NOTICE: *
The images and gifs published on this site for download are protected by Digital Millennium Copyright Act (DCMA). You are NOT ALLOWED to post Gifs and images from this site on platforms such as Tenor.com, Giphy.com and other gif hosting and sharing platform or other websites to make these animated gifs and images available for re download and sharing (without coming to this site's original post). Hotlinking Images/Gifs from this site is STRICTLY PROHIBITED. Please read full Term of Use for more details.
View more Gifs at GreetingsGif.com and HappyNewYearGifs.com