100+ Motivational Quotes for Facebook, Twitter, Instagram, WhatsApp Status, and other social media services and personal messengers.
We have selected 100+ Motivational Quotes that you can use to motivate yourself, your team members, co-workers, family, friends, or anyone who just needs a little extra motivation to kick start their day. Our website offers you a great selection of Motivational and Inspirational Quotes that you can use daily. You can always view and share more daily quotes in our daily motivational quotes category.
Motivational and inspirational quotes are always important to motivate and inspire you to do great things for yourself. You may be starting a new job or a new assignment or just looking forward to that next big dream project, whatever it maybe it is never too late to start with the right attitude and stay focused on your goals. A little bit of motivation can help you every step of the way! After all, we continue to learn every day! What's better than motivating yourself and others to achieve the best in life. Sometimes a few words at the right time, can be life changing which may give you a new perspective perhaps.
We continue to seek and publish motivational quotes that you can use every day! Whether for yourself, for your colleagues or friends, we hope you find just the quotes that makes a difference to you.
Share our motivational quotes, inspirational quotes, daily quotes on personal messengers or social media anytime.
We wish that you find success and happiness in everything you do!
Inspirational Quotes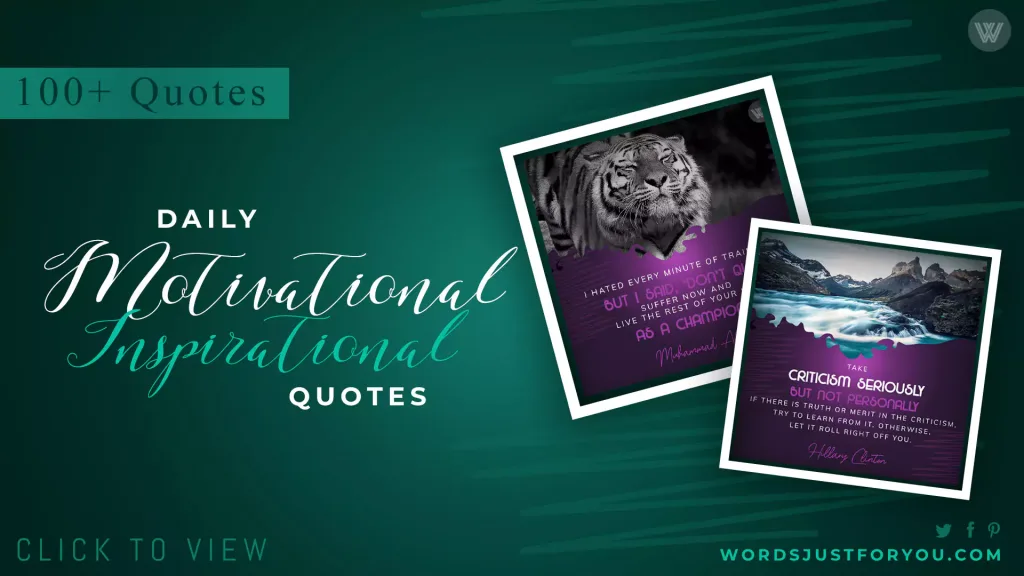 "A man is but the product of his thoughts. What he thinks, he becomes." Mahatma Gandhi
Daily Motivational Quotes for Work
"If you cannot do great things, do small things in a great way." – Napoleon Hill
"The three 'C's' of leadership are Consideration, Caring and Courtesy. Be polite to everyone." – Brian Tracy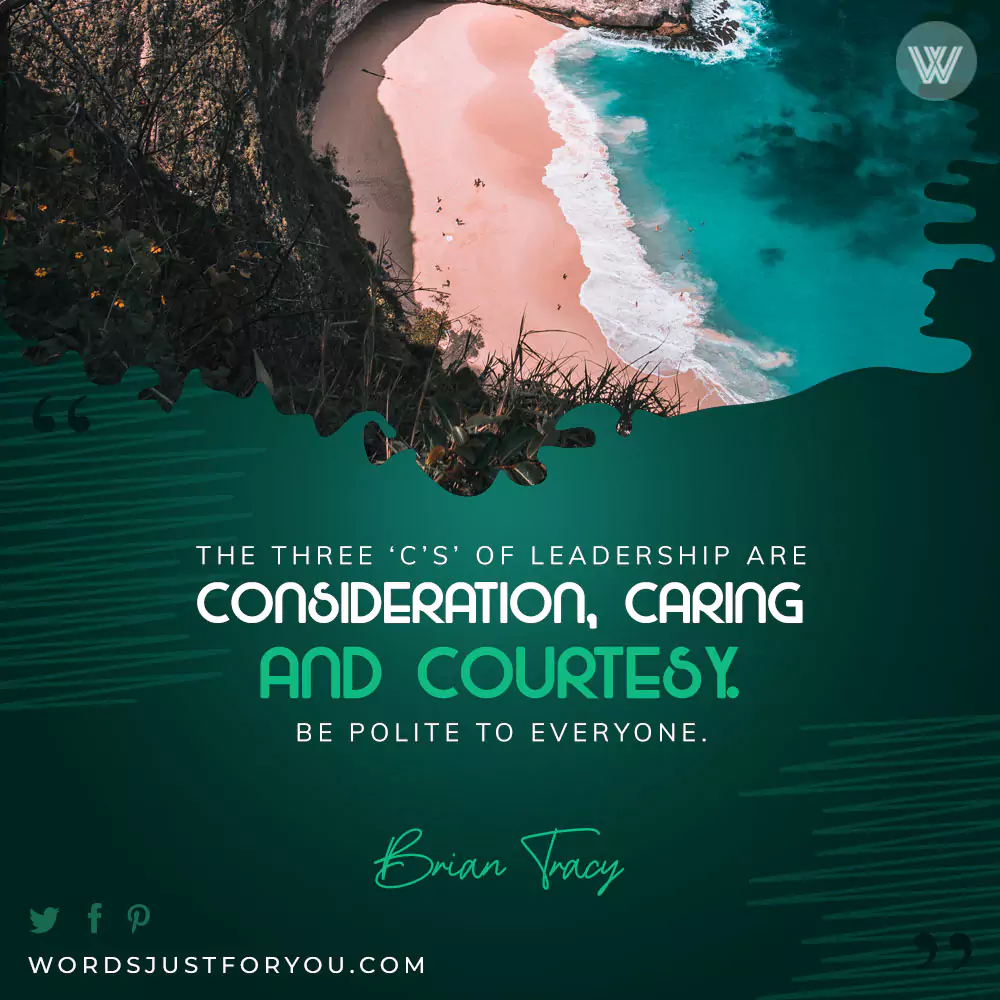 "I hated every minute of training, but I said, 'Don't quit. Suffer now and live the rest of your life as a champion." Muhammad Ali
"As a single footstep will not make a path on the earth, so a single thought will not make a pathway in the mind. To make a deep physical path, we walk again and again. To make a deep mental path, we must think over and over the kind of thoughts we wish to dominate our lives." – Henry David Thoreau
"I didn't get there by wishing for it, but by working for it." – Estee Lauder
"Do what you can, with what you have, where you are." – Theodore Roosevelt
"Optimism is the faith that leads to achievement. Nothing can be done without hope and confidence." – Helen Keller
"You can do anything you set your mind to." – Benjamin Franklin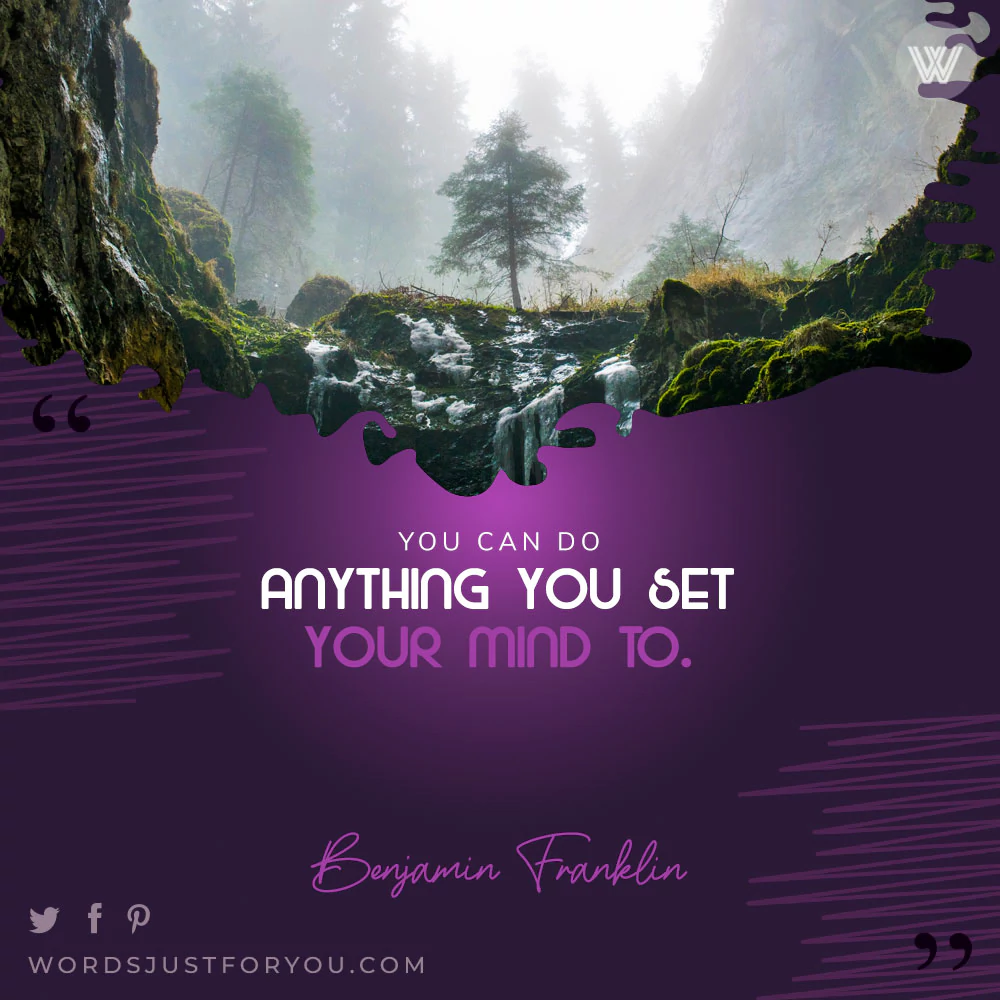 "Many people, especially ignorant people, want to punish you for speaking the truth, for being correct, for being you. Never apologize for being correct, or for being years ahead of your time. If you're right and you know it, speak your mind." – Mahatma Gandhi
"Opportunities don't happen. You create them." Chris Grosser
"Someone will declare, "I am the leader!" and expect everyone to get in line and follow him or her to the gates of heaven or hell. My experience is that it doesn't happen that way. Others follow you based on the quality of your actions rather than the magnitude of your declarations." ―Bill Walsh
"If you're too comfortable, it's time to move on. Terrified of what's next? You're on the right track." – Susan Fales-Hill
"Never give up on a dream just because of the time it will take to accomplish it. The time will pass anyway." – Earl Nightingale
"Respect is the key determinant of high-performance leadership. How much people respect you determines how well they perform." – Brian Tracy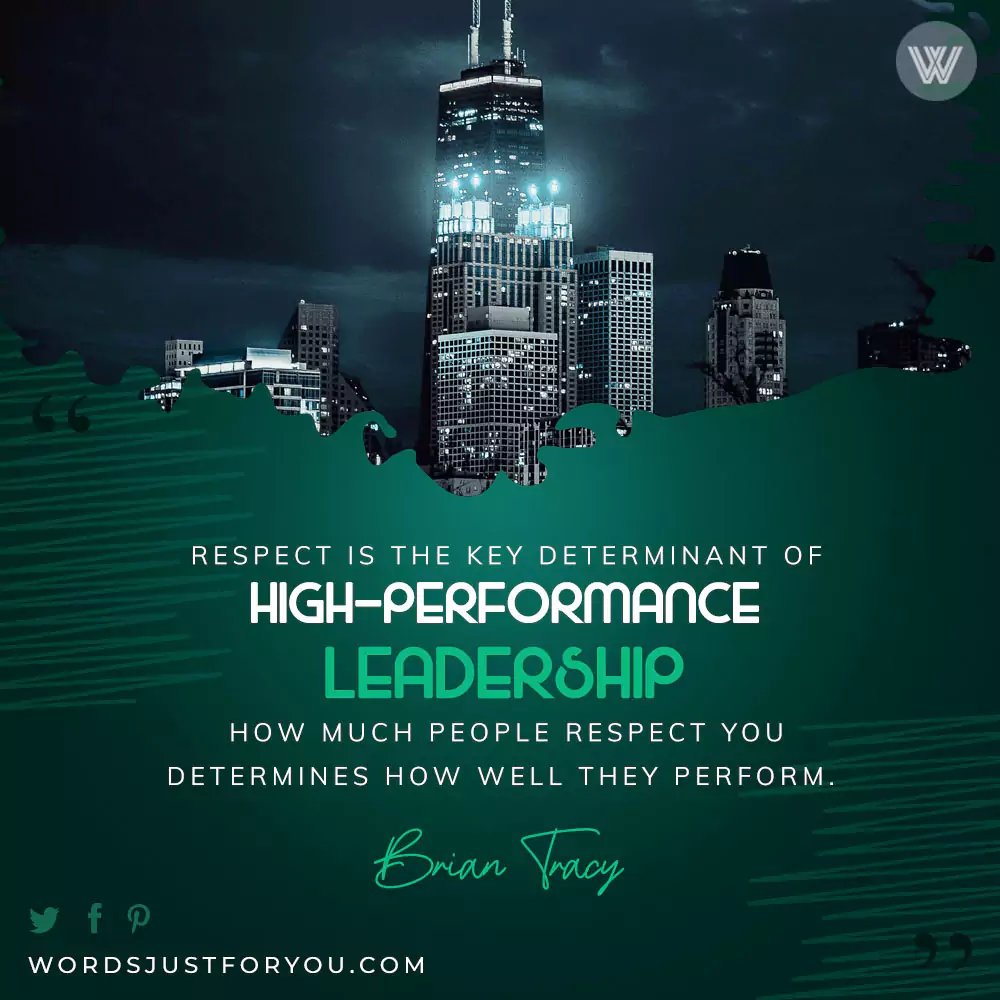 "Do not stop thinking of life as an adventure. You have no security unless you can live bravely, excitingly, imaginatively; unless you can choose a challenge instead of competence." – Eleanor Roosevelt
"Nothing will work unless you do." – Maya Angelou
"Be happy with what you have while working for what you want." – Helen Keller
"Go the extra mile. It's never crowded there." Dr. Wayne D. Dyer
"There is force in the universe, which, if we permit it, will flow through us and produce miraculous results." Mahatma Gandhi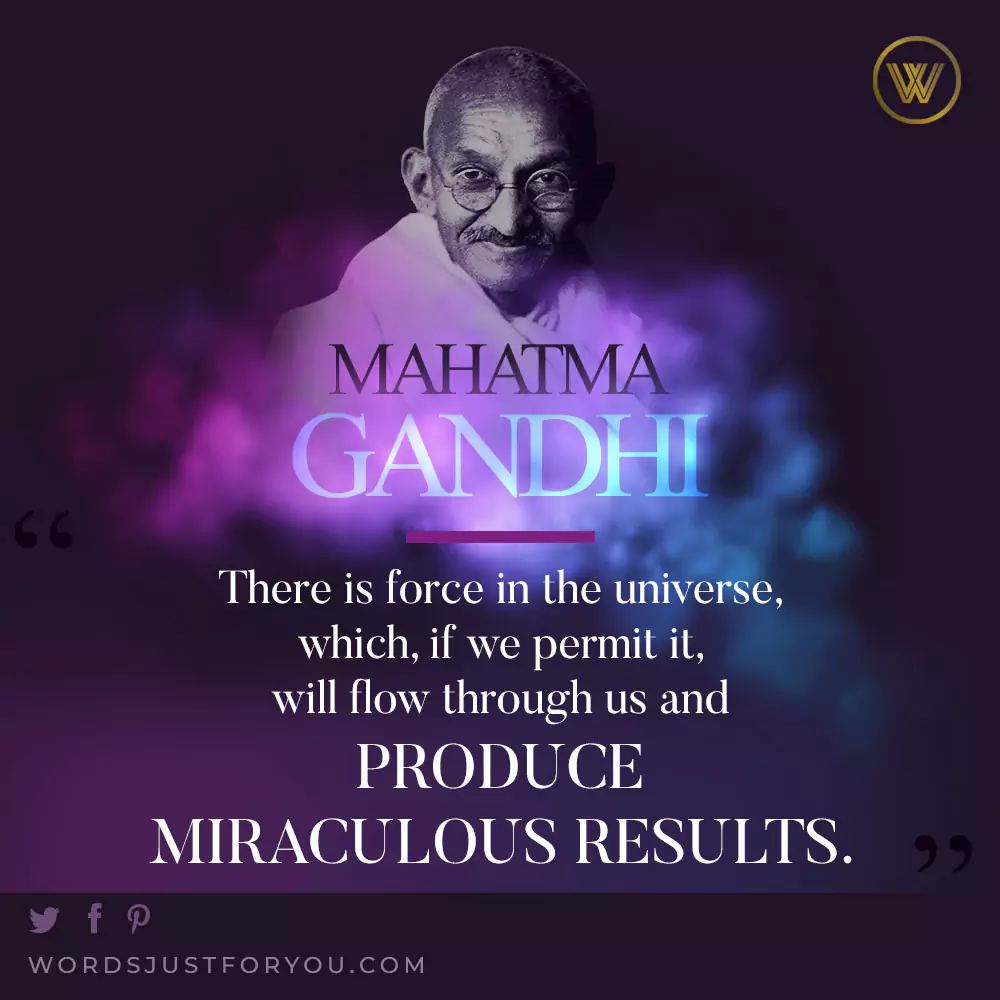 Inspirational Quotes
"Success is stumbling from failure to failure with no loss of enthusiasm." – Winston Churchill
"Perfection is not attainable. But if we chase perfection we can catch excellence." – Vince Lombardi
"The big lesson in life is never be scared of anyone or anything." – Frank Sinatra
"Some people want it to happen, some wish it would happen, others make it happen." – Michael Jordan
"Leaders are never satisfied. They continually strive to be better." – Brian Tracy
"Man often becomes what he believes himself to be. If I keep on saying to myself that I cannot do a certain thing, it is possible that I may end by really becoming incapable of doing it." Mahatma Gandhi
"Keep your face always toward the sunshine and shadows will fall behind you." Walt Whitman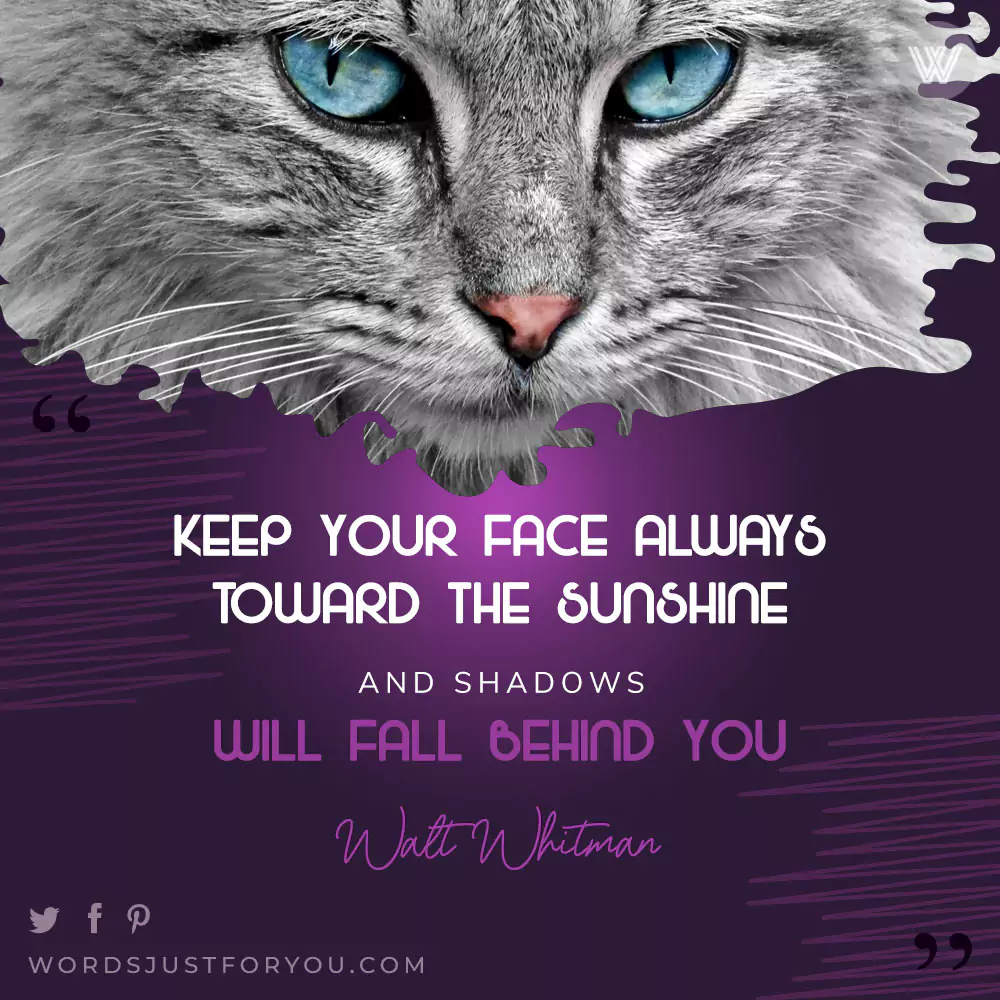 "We need to accept that we won't always make the right decisions, that we'll screw up royally sometimes – understanding that failure is not the opposite of success, it's part of success." – Arianna Huffington
"I've missed more than 9,000 shots in my career. I've lost almost 300 games. 26 times I've been trusted to take the game winning shot and missed. I've failed over and over and over again in my life and that is why I succeed." – Michael Jordan
"Magic is believing in yourself. If you can make that happen, you can make anything happen." – Johann Wolfgang Von Goethe
"Fairy tales are more than true: not because they tell us that dragons exist, but because they tell us that dragons can be beaten." – Neil Gaiman
"Every champion was once a contender that didn't didn't give up." Gabby Douglas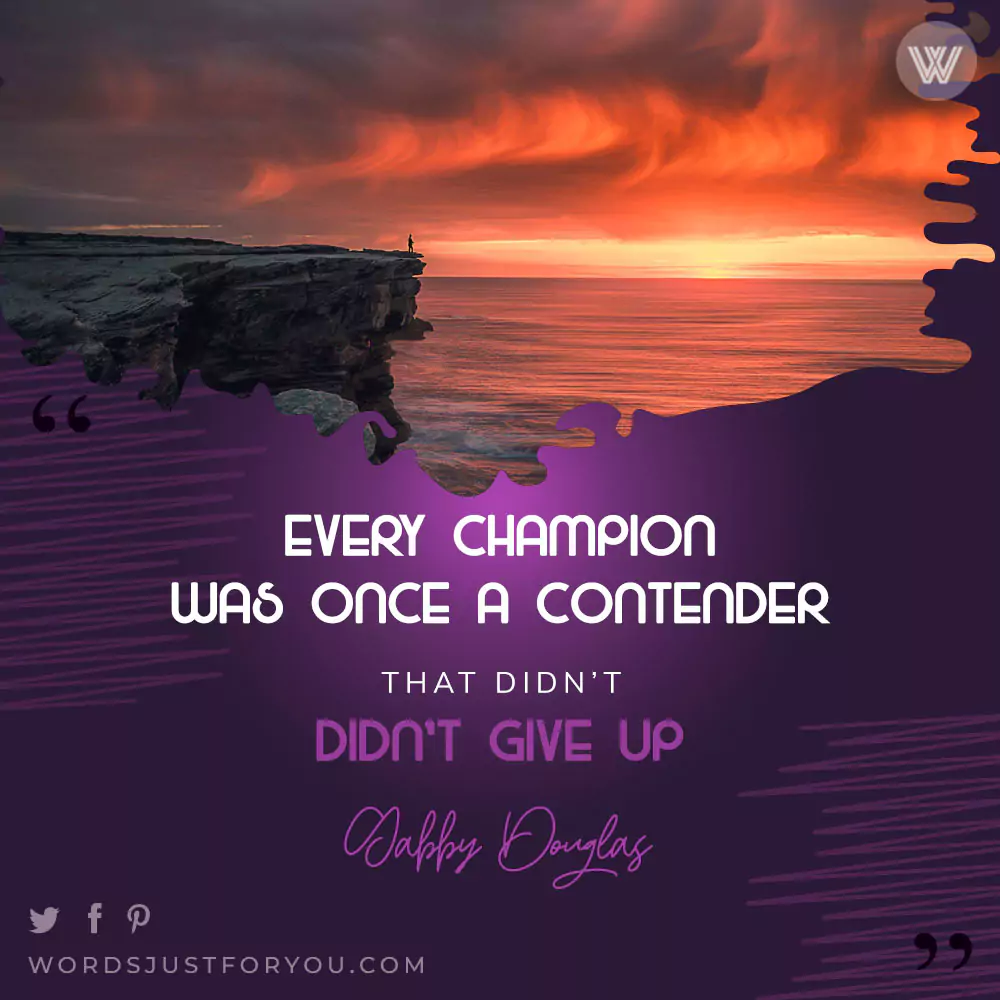 "The two most important days in your life are the day you're born and the day you find out why." – Mark Twain
"First forget inspiration. Habit is more dependable. Habit will sustain you whether you're inspired or not. Habit will help you finish and polish your stories. Inspiration won't. Habit is persistence in practice." – Octavia Butler
Believe in yourself take on your challenges, dig deep within yourself to conquer fears. Never let anyone bring you down. You got to keep going." Chantal Sutherland
"Make sure your worst enemy doesn't live between your own two ears." – Laird Hamilton
"If we take care of the moments, the years will take care of themselves." – Maria Edgeworth
"Leaders are innovative, entrepreneurial, and future-oriented. They focus on getting the job done." – Brian Tracy
"When one door of happiness closes, another opens; but often we look so long at the closed door that we do not see the one which has been opened for us." – Helen Keller
"If you can't do anything about it then let it go. Don't be a prisoner to things you can't change." Tony Gaskins
"The Seven Sins are: Wealth without work. Pleasure without conscience. Knowledge without character. Commerce without morality. Science without humanity. Religion without sacrifice. Politics without principle." Mahatma Gandhi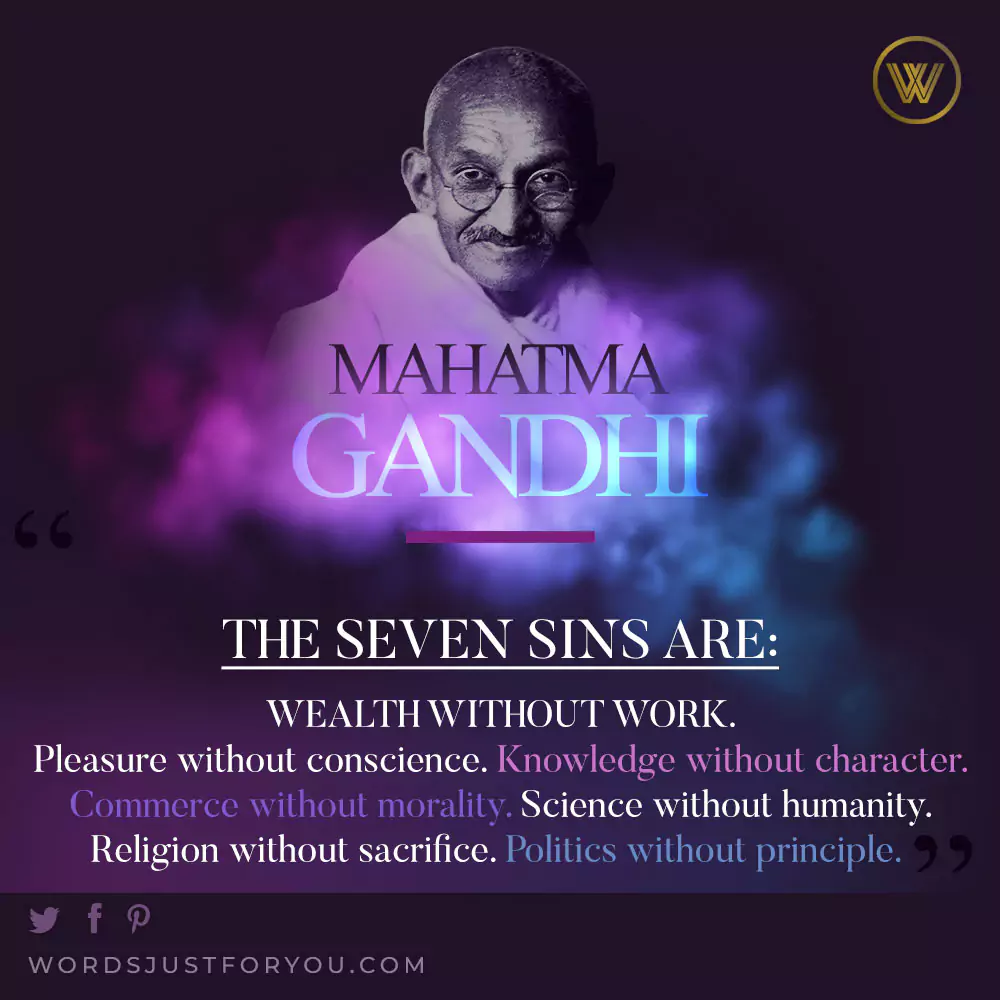 Daily Motivational Quotes
"There is a higher court than courts of justice and that is the court of conscience. It supercedes all other courts." Mahatma Gandhi
"It's no use going back to yesterday, because I was a different person then."- Lewis Carroll
"Do what you feel in your heart to be right – for you'll be criticized anyway." – Eleanor Roosevelt
"You can't go back and change the beginning but you can start where you are and change the ending." C.S. Lewis
Motivational Quotes
"Smart people learn from everything and everyone, average people from their experiences, stupid people already have all the answers." – Socrates
"Your passion is waiting for your courage to catch up." – Isabelle Lafleche
"Work hard, be kind, and amazing things will happen." – Conan O'Brien
"Impossible is just an opinion." – Paulo Coelho
"The best way to predict your future is to create it." Abraham Lincoln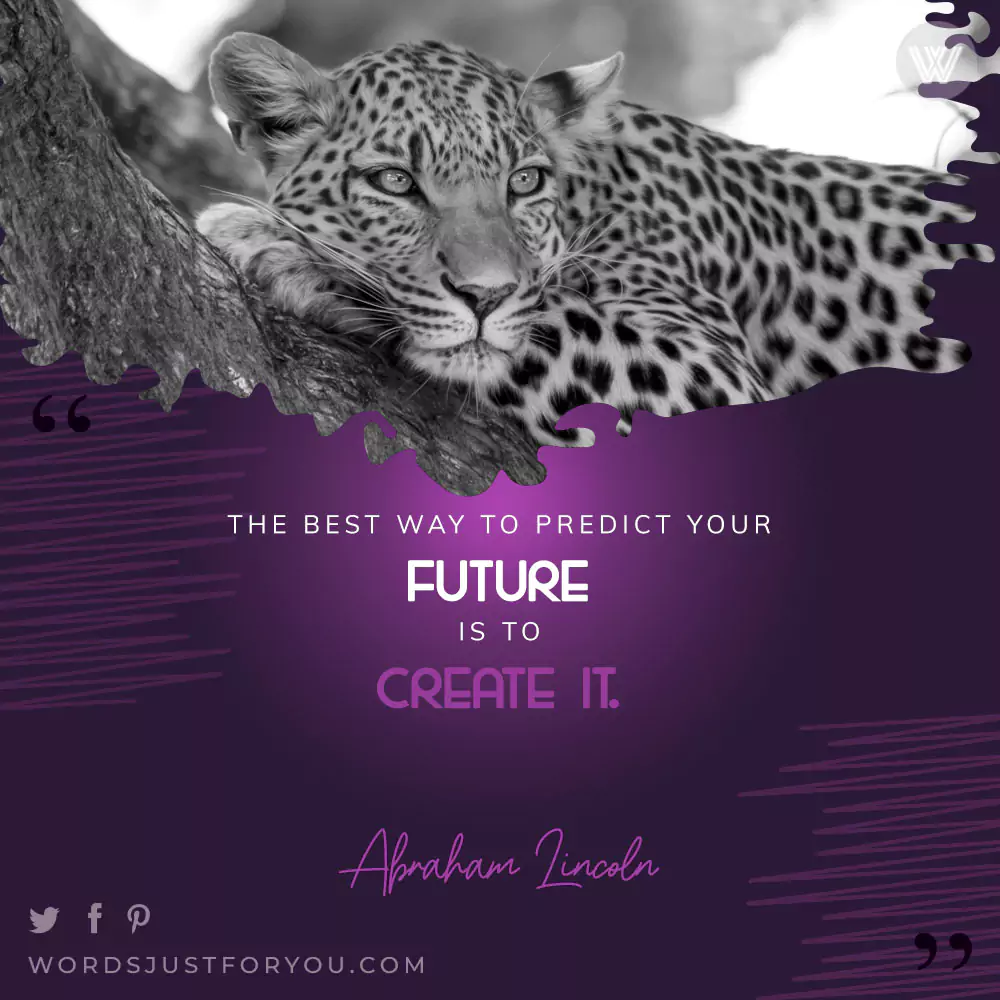 "Opportunity does not knock it presents itself when you beat down the the door." Kyle Chandler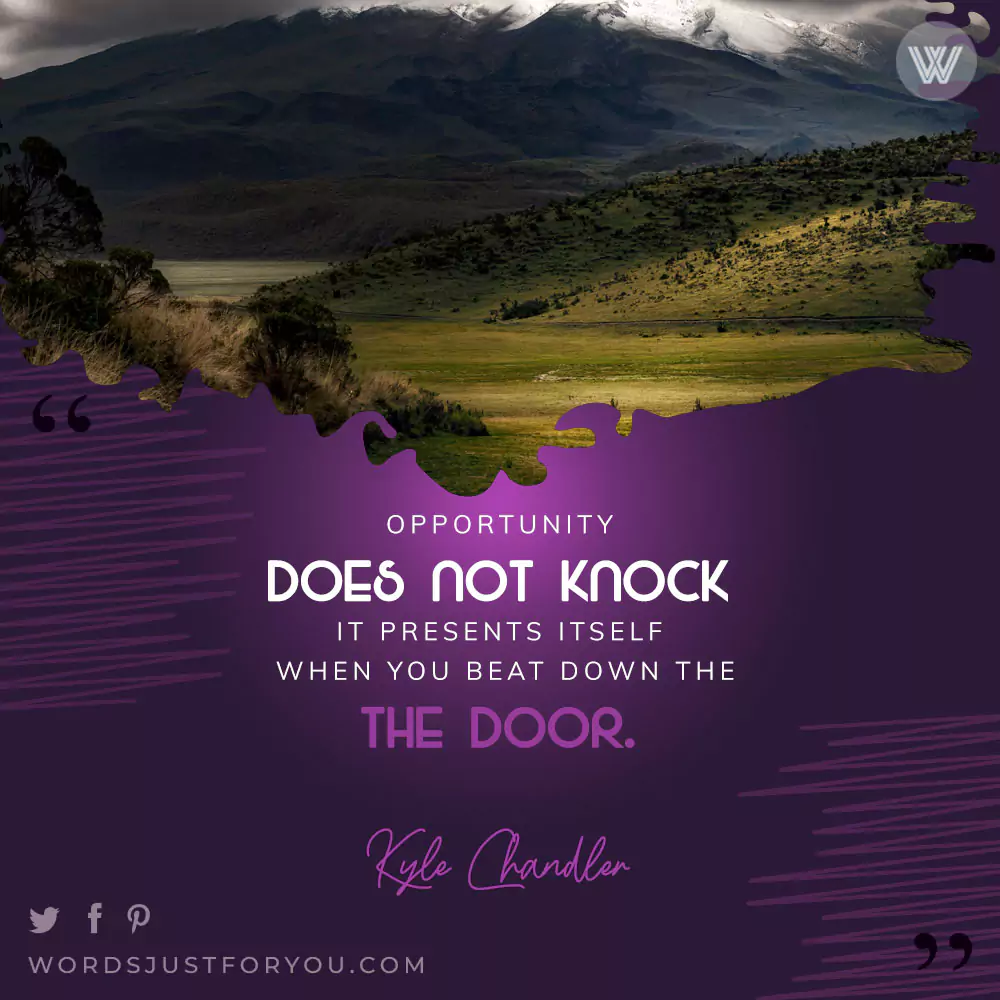 Motivational Quotes
"If something is important enough, even if the odds are stacked against you, you should still do it." – Elon Musk
"Hard work beats talent when talent doesn't work hard." – Tim Notke
"Don't be afraid to give up the good to go for the great." – John D. Rockefeller
"Don't say you don't have enough time. You have exactly the same number of hours per day that were given to Helen Keller, Pasteur, Michelangelo, Mother Teresa, Leonardo Da Vinci, Thomas Jefferson, and Albert Einstein." – H. Jackson Brown Jr.
"Nothing ever goes away until it teaches us what we NEED to know." Pema Chodron
"If everything seems to be under control, you're not going fast enough." – Mario Andretti"If everything seems to be under control, you're not going fast enough." – Mario Andretti
"Opportunity is missed by most people because it is dressed in overalls and looks like work." – Thomas Edison
"Never stop doing your best just because someone doesn't give you credit." – Kamari aka Lyrikal
"The best way to appreciate your job is to imagine yourself without one." – Oscar Wilde
"Work hard and don't give up hope. Be open to criticism and keep learning. Surround yourself with happy, warm and genuine people." – Tena Desae
"Success isn't always about greatness. It's about consistency. Consistent hard work leads to success. Greatness will come." Dwayne Johnson
Motivational Quotes
"Work hard for what you want because it won't come to you without a fight. You have to be strong and courageous and know that you can do anything you put your mind to. If somebody puts you down or criticizes you, just keep on believing in yourself and turn it into something positive." – Leah LaBelle
"Never give up on a dream just because of the time it will take to accomplish it. The time will pass anyway." – Earl Nightingale
"If you work on something a little bit every day, you end up with something that is massive." – Kenneth Goldsmith
"If you can't make a mistake you can't make anything." Marva Collin
Daily Motivational Quotes
"Amateurs sit around and wait for inspiration. The rest of us just get up and go to work." – Stephen King
"Your work is going to fill a large part of your life, and the only way to be truly satisfied is to do what you believe is great work. And the only way to do great work is to love what you do. If you haven't found it yet, keep looking. Don't settle. As with all matters of the heart, you'll know when you find it." – Steve Jobs
"Getting over a painful experience is much like crossing the monkey bars. You have to let go at some point in order to move forward." – C.S. Lewis
"Some luck lies in not getting what you thought you wanted but getting what you have, which once you have got it you may be smart enough to see is what you would have wanted had you known." – Garrison Keillor
"Everyone has inside them a piece of good news. The good news is you don't know how great you can be! How much you can love! What you can accomplish! And what your potential is." – Anne Frank
"Those who cannot change their minds cannot change anything." George Bernard Shaw
Daily Motivational Quotes
"Take criticism seriously but not personally If there is truth or merit in the criticism, try to learn from it. Otherwise, let it roll right off you." Hillary Clinton
"When written in Chinese the word "crisis" is composed of two characters – one represents danger and the other represents opportunity." – John F Kennedy
"In the middle of every difficulty lies opportunity." – Albert Einstein
"The pessimist sees difficulty in every opportunity. The optimist sees opportunity in every difficulty." – Winston Churchill
"Dreams don't work unless you do." – John C. Maxwell
"If you don't get out of the box you've been raised in, you won't understand how much bigger the world is." Angelina Jolie
Daily Quotes
"Make each day your masterpiece." – John Wooden
"Wherever you go, go with all your heart" – Confucius
"We can do anything we want to if we stick to it long enough." – Helen Keller
"Success is not final, failure is not fatal, It is the courage to continue that counts." Winston S. Churchill
"Relationships are based on four principles: respect, understanding, acceptance and appreciation." Mahatma Gandhi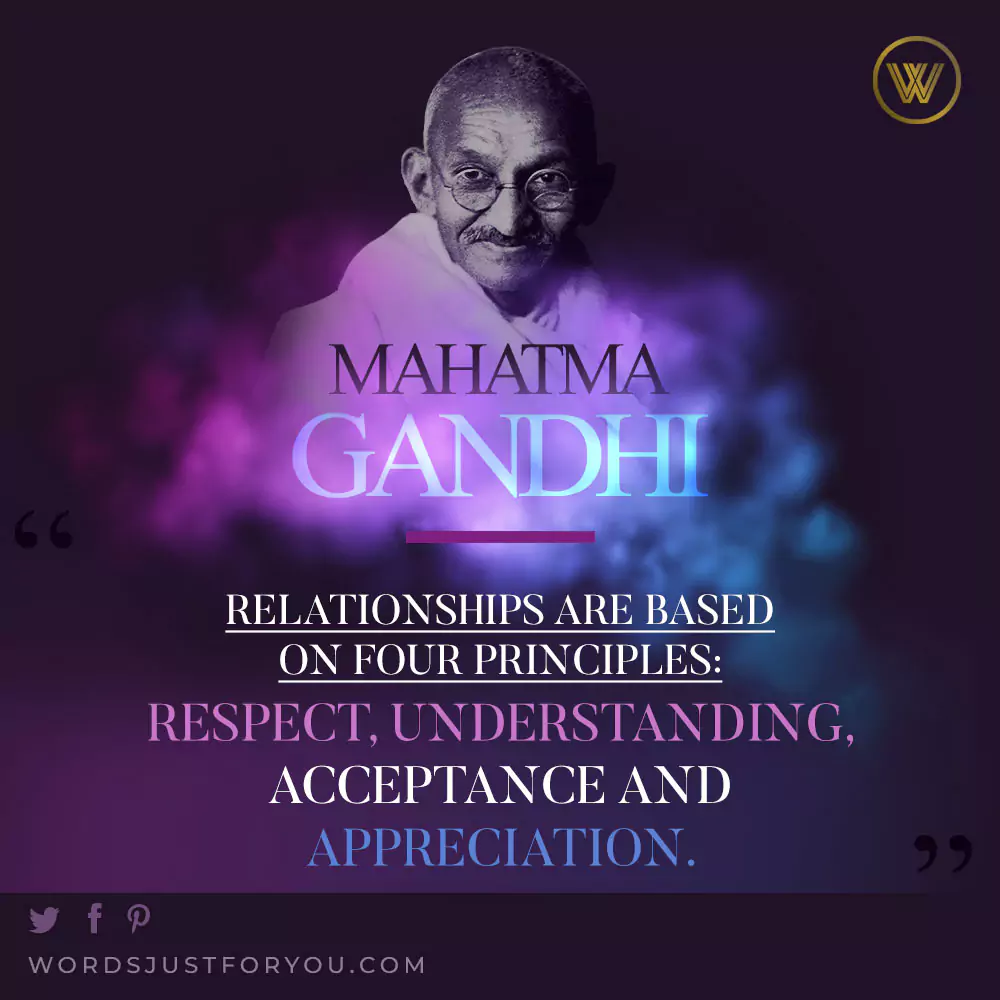 "Just as one must not receive, so must one not possess anything which one does not really need. It would be a breach of this principle to possess unnecessary food-stuffs, clothing, or furniture. For instance, one must not keep a chair if one can do without it. In observing this principle one is led to a progressive simplification of one's own life." Mahatma Gandhi
"Life is not what you alone make it. Life is the input of everyone who touched your life and every experience that entered it. We are all part of one another." – Yuri Kochiyama
Thank you for visiting our Website. This encourages our team to continue to develop and design latest high quality animated gifs and cards on a regular basis! Our website offers you a wide selection of animated gifs, ecards, quotes and images.
How to Download Gifs/Images from our Website?